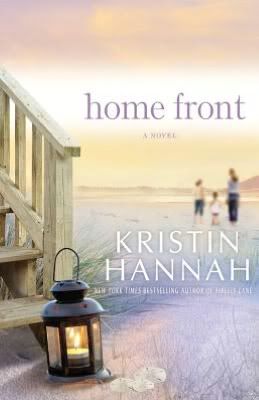 Home Front by Kristin Hannah
Summary:
Jolene Zarkades had a tough life growing up. She watched her two alcoholic parents destroy each other and their marriage. Jolene had to fend for herself as her parents often neglected her. She vowed she would be different and would not left her past dictate her future.
Now at forty-one, Jolene is married to Michael and mother to Betsy and Lulu. She's an army helicopter pilot and has learned happiness is a personal choice to be made each day. She strives to see every problem as an opportunity to become a better person.
All of this changes when she feels Michael growing distant from her. He spends more and more time at work and barely pays attention to his daughters. Promises are often broken and tension fills the room when they are together. Michael then tells her he doesn't love her anymore. Within days of hearing this, Jolene is deployed to Iraq. Michael is thrust into the role of primary care provider, a role he quickly learns he is not prepared for.
My Thoughts:
After reading
Firefly Lane
a few years ago, Hannah has been on my "must read" list. Each year I anticipate her latest release as I know I will laugh and cry throughout the book.
Home Front
was no exception.
Hannah has a way of creating characters that the reader will come to embrace and consider friends. No, these characters are not perfect. In fact they are flawed and at times difficult to like. But that is what makes them real. Her characters could be a sister, a friend or the next-door neighbor. Relationships are often messy and sometimes life just does not go as planned. Hannah tackles both themes well and spins an intricate story that will leave the reader on an emotional ride. Highly recommended.
________________________
Book Details:
ISBN: 9780312577209
Pub. Date: January 31, 2012
Publisher: St. Martin's Press
Pages: 400
Genre: Contemporary Fiction
Source: Print copy borrowed from library