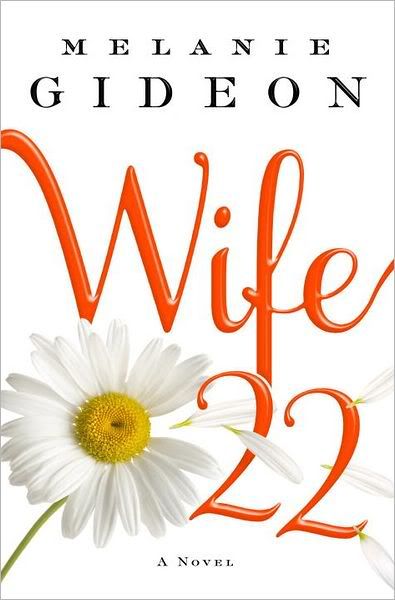 Wife 22 by Melanie Gideon
Summary:
Life hasn't gone as Alice Buckle expected. Her teenage daughter is distant and Alice fears she may have an eating disorder. She suspects her son may be gay. Her relationship with her husband feels more like roommates than marriage. Let's face it, Alice is unhappy. So when a marital questionnaire mysteriously pops up in her inbox, Alice decides to complete it with hopes of finding herself. She's given a case ID # "Wife 22" and is assigned to "Researcher 101". Her answers are confidential and soon Alice finds herself opening up to her case worker.
Review:
Wife 22
is a modern look at marriage by use of Facebook status updates, Google searches, and email. Alice finds herself stuck: she's a mother and a wife, but cannot escape the feeing that there should be more. At one time she had goals and plans for her life, but one day she woke up and realized the life she's currently living doesn't feel like her own.
The marital questionnaire comes at the right time for Alice. She's questioning her self-worth which leads her to question how happily married she is. At first the questions feel a bit routine and mundane, but Alice continues responding to each question. When the questions begin to be more intimate in nature, she finds herself curious about Researcher 101. To Alice's surprise, she becomes attracted to him and fantasizes about him while offline.
I really enjoyed reading
Wife 22
. Gideon's use of social media made this novel refreshing. Gideon created a likable character with Alice. She struggles to make the most of what she has, but cannot help to wonder "what if?" All of us, sooner or later, will think about the path not taken or ask the question: "how is
this
my life?!" Readers will root for Alice as she makes her way through to discover answers to these questions.
I like that I didn't know the survey questions before reading Alice's answers. Some of the questions were predictable based on her response, but for the most part I had no idea. The questions are included in the appendix. I found myself going back and re-reading her answers after reading the questions.
With summer around the corner,
Wife 22
is a perfect companion to drop in your beach bag or curl up with on the deck. Hang out with Alice for awhile to discover if she learns what it takes to be happy in one's marriage and life.
________________________
Book Details:
ISBN: 9780345527950
Pub. Date: May 29, 2012
Publisher: Ballantine Books
Pages: 400
Genre: Women's Fiction
Source: Publisher via NetGalley