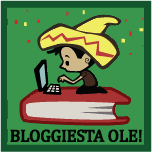 Yesterday I spent most of my day working on my blog for Bloggiesta. I managed to get quite a bit accomplished. I even completed several items that weren't originally on my list.
Completed tasks:
Updated 2012 Books Read page and linked reviews
Created "By Genre" review page
Wrote outstanding reviews for books on my desk (I had to pat myself on the back for that! I may have also had ice cream and some Girl Scout cookies too!)
Purged review drafts folder: I had so many reviews that were finished and only needed the book covers and details. Who knew? I also deleted unfinished reviews I no longer had an interest in writing. I did save a few that I started brainstorming and had notes for. I'll keep those for a rainy day.
Wrote and scheduled WoW posts for April
Changed the background for block quote
Changed the appearance of my signature for new posts
Updated book read information on Goodreads and LibraryThing
Completed challenges: Pinterest to Promote Your Blog, How to Build Readers for Your Blog Through Commenting, and Five Ways to Make Your Blog Stand Out. The Pinterest challenge actually generated more items for me to work on soon. I didn't spend a lot of time creating boards as I knew it would distract me from my review writing. I did bookmark other challenges to work on at a later date.
Discovered new-to-me blogs: I added several new blogs to my Google Reader. Also while stopping by the blogs, I ended up adding more future tasks to work on. Maintaining a blog is a work in progress I tell you.
Tasks in progress:
Update review log (including Previous Years): I started working on this, but realized I need to plan a bit more. As I started adding links to reviews, more ideas starting to form. I did a lot of prep work before this weekend in order to complete this task, but as I started working on it, other things came to mind. So this will be something I will complete a little at a time.
Write post for new blog feature: the post is finished. I need to edit my intro paragraph and decide when I will schedule it to post. I'm still deciding if it will be a weekly, monthly, or quarterly.
Clean up Google Reader: I'm not sure if this is a task I will ever complete! I did delete old blogs that are no longer active. I added folders which helped.
I feel good about what I accomplished. I won't be able to continue anymore today. Now that my blog is looking better, sadly my home is not! And not mention I haven't picked up a book since Wednesday. I'm anxious to start
Private: #1 Suspect
by James Patterson and Maxine Paetro! I need to complete my chores so I can curl up on the couch and read.