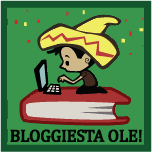 March 30 - April 1
Bloggiesta is back! This weekend bloggers will spend time working on their blog "to do" list. Whether it's writing reviews, updating labels and tags or creating a new header. A lot of behind the scenes work will occur during the next 72 hours.
My Bloggiesta plans:
Update 2012 Books Read page
Update Previous Years page
Link written reviews to Book Review pages
Create "By Genre" review page
Write outstanding reviews for books on my desk
Write post for new blog feature
Purge review drafts folder
Schedule WoW posts for April
Clean up Google Reader
Participate in challenges
Discover new blogs
I have a feeling most of my weekend will be spent writing reviews! Are you participating in Bloggiesta? Let me know so I can stop by and cheer you on.