I began reading the Domestic Diva Mystery Series in 2010. I read rave reviews about
The
Diva Runs out of Thyme
, first of the series, so I had to see for myself if it lived up to its hype. I'm happy to say it did! I'm always on the hunt for a new cozy series and it just so happens this series is set in Old Town Alexandria, not too far from me. (If you're interested, my review can be read
here
.)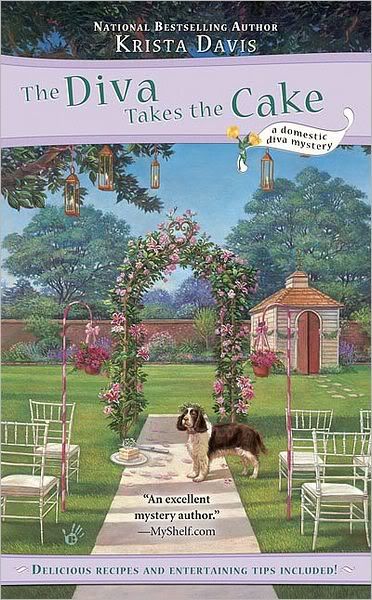 Book 2
Title: The Diva Takes the Cake
Author: Krista Davis
Pages: 309
Sophie's sister Hannah is getting married. Sophie graciously offers to help Hannah plan her wedding despite her reservations with the groom-to-be. When the groom's ex-wife is found murdered, he becomes the number one suspect on Sophie's list. Sophie finds herself involved with the murder investigation to ease her doubts her sister is not marrying a killer.
Book 3








Title: The Diva Paints the Town
Author: Krista Davis
Pages: 293
Sophie finds herself at odds with her rival Natasha. Sophie's neighbor has died and Natasha is renovating his home for a house tour. When Sophie is assigned a room, the battle is on between the two women. When a dead body is found inside the home, Sophie finds herself involved in another murder investigation.
Davis has created a host of characters the reader will come to love. The mysteries are light and will keep you guessing until the last page. If you are looking for a new cozy series, I suggest you give the
Domestic Diva Mystery
series a try. You will not be disappointed.