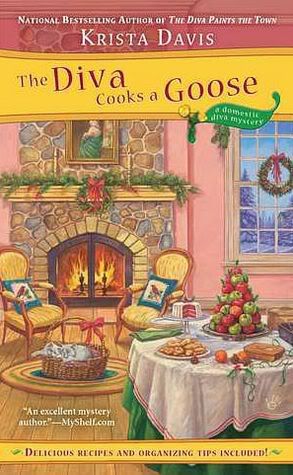 The Diva Cooks a Goose
by Krista Davis
A Domestic Diva Mystery, Book 4
It's About:
It's Christmas and Sophie Winston is spending the holiday with her family. When she arrives at her brother George's house, she learns a thief has stolen all their presents from under the tree. As it turns out, the neighbors' presents were also stolen. Sophie finds herself involved in another case as she tries to track down the thief and salvage Christmas.
Thoughts:
The Domestic Diva is one of my favorite cozy series. Like previous novels, the author introduces the readers to many characters, but thankfully a list of characters is noted at the beginning of the book in case one needs a reminder. They mystery moves quickly and the author throws in several twists to hide the killer's identity until the end of the novel. I'm looking forward to reading the fifth book in the series,
The Diva Haunts the House
.
Recommended to readers if:
you live in, near or have visited Old Town Alexandria, VA
you love a mystery with lots of characters
you enjoy an amateur sleuth who is logical and isn't afraid to get her hands dirty when investigating a case
______________
Book Details:
ISBN: 9780425238257
Release Date: December 10, 2010
Pages: 304
Genre: Cozy Mystery
Source:
ebook downloaded from my library's website