"Waiting On" Wednesday is a weekly event, hosted by Jill of
Breaking the Spine
, that spotlights upcoming releases that we're eagerly anticipating.
(Button courtesy of Bewitched Bookworms.)
Here's what I'm looking forward to: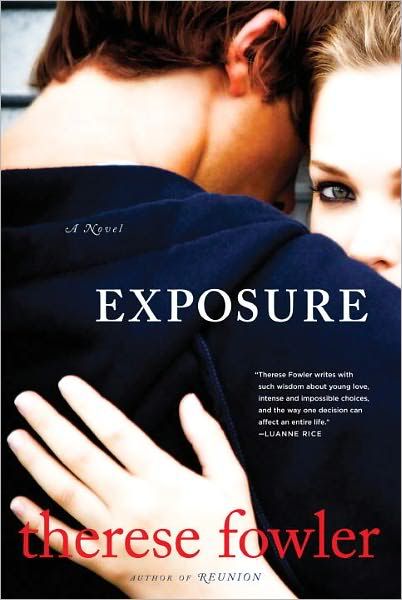 Title:
Exposure
Author:
Therese Fowler
Release Date:
May 3
From the author's website:
In EXPOSURE, Therese Fowler has written her most gripping novel to date—a ripped-from-the-headlines story of intense young love and a nightmarish legal maelstrom that threatens to destroy two families.
Amelia Wilkes' strict father does not allow her to date, but that doesn't stop the talented, winsome high school senior from carrying on a secret romance with her classmate, Anthony Winter. Desperately in love, the two envision a life together and plan to tell Amelia's parents when she turns eighteen and is legally an adult. Anthony's mother, Kim Winter, who teaches at their school, knows—and keeps—their secret. But the couple's passion is exposed sooner than planned: Amelia's father, Harlan, is shocked and infuriated to find naked pictures of Anthony on his daughter's computer. Just hours later, Anthony is arrested.
Despite Amelia's frantic protests, Harlan uses his wealth and influence with local law enforcement and the media to label Anthony a deviant who preyed on his innocent daughter. Spearheaded by a zealous prosecutor anxious to turn the case into a public crusade against "sexting," the investigation soon takes an even more disturbing and destructive turn.
As events spiral wildly out of control and the scandalous story makes national news, Amelia and Anthony risk everything in a bold and dangerous plan to clear their names and end the madness once and for all.
A captivating page-turner, Therese Fowler's EXPOSURE is also a deftly crafted, provocative, and timely novel that serves as a haunting allegory of the consequences of love in the modern age.