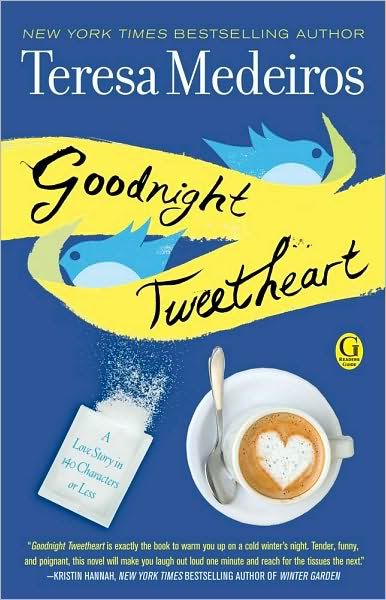 Abby Donovan's first novel was a bestseller and an Oprah Book Club pick. Now she's writing her second novel and is currently stuck on Chapter Five. Her publicist signs her up for a Twitter account to gain more exposure to her readers. Abby had no idea what Twitter is let alone tweets, hashtags or DMs. Her curiosity wins out when she gains a follower named Mark Baynard.
Slowly Abby finds herself drawn to Mark and anxiously waits the chirp of TweetDeck announcing a new message. As their relationship progresses, Abby begins to lower the walls she built after her father's death and her mother's diagnosis of early-onset Alzheimer's.


Goodnight Tweetheart
is a contemporary romance written mostly in tweets and direct messages. Medeiros illustrates how easily someone can connect to his/her online relationships. Hiding behind her computer screen, Abby feels more comfortable with herself than she does in real life. What started out as a flirtatious banter, flowed into a honest friendship leaving Abby wanting more.
Less than 230 pages,
Goodnight Tweetheart
can easily be read in few hours. Don't be fooled by the cute cover. It appears to be a quick chick lit/romance novel, but it's much more than that. I felt for Abby and Mark and wanted them to have the "happily ever after" ending. I do hope Medeiros brings them back in a follow-up novel. The ending certainly left me wanting more.
____________
Book details:
Genre: Chick Lit, Contemporary Romance
Pub. Date: December 14, 2010
Pages: 222
Source: Publisher
I received a complimentary copy of this book for the
Goodnight Tweetheart
blog tour. My participation in this tour and receiving a free copy did not influence my review in any way.