Here are three books I read during the Read-a-Thon: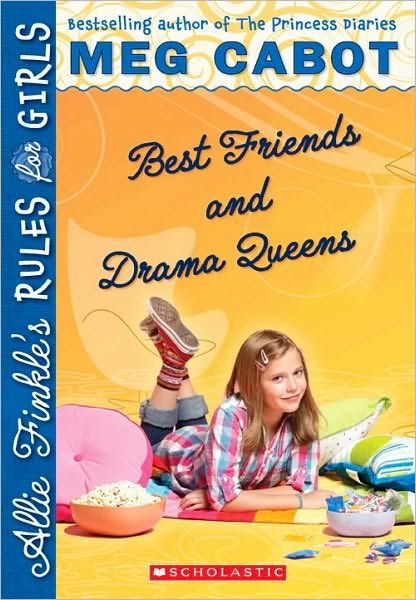 Title:
Best Friends and Drama Queens
Author:
Meg Cabot
Series:
Allie Finkle Rules for Girls #3
ISBN:
978-0-545-040444-0
Allie Finkle loves her new school, new friends and most of all her fourth grade teacher Mrs.Hunter. (Mrs. Hunter even told Allie's grandmother that she's a joy to have in class!) So after winter break, Allie is really excited to return to school. Her excitement builds when she learns a new girl from Canada will be in her class. To assist the new student with adjusting to a new school, Miss Hunter asks Allie to give up her desk, which is next to her best friend Erica, for a desk that's in the back of the room where the "bad" boys sit. Not wanting to say no, Allie reluctantly agrees.
Unfortunately for Allie the new girl, Cheyenne O'Malley thinks she's immature for playing the pretend game of Queens. Instead Cheyenne wants to chase after the boys so she can kiss them. Cheyenne also wants every boy and every girl to "go together", which Allie and her friends aren't sure where they are to "go" to.
Allie knows she's not ready to be as "mature" as Cheyenne. After all she's in the fourth grade and doesn't want a boyfriend. There's plenty of time for that. Will Allie risk standing up to Cheyenne even if it means losing her friends?
Title:
Stage Fright
Author:
Meg Cabot
Series:
Allie Finkle Rules for Girls #4
ISBN:
978-0-545-04045-7
Allie Finkle and her fourth grade class are putting on play for the school's open house. Everyone is really excited to audition and several students want to be the lead. Including Allie's BFF Sophie and Cheyenne, a mean girl in Allie's class.
After reading through the play, Allie decides she wants to try out for the Princess too and asks her Uncle Jay for help. Allie isn't sure how Sophie will react when she finds out Allie is auditioning too, but Allie doesn't allow this to hold her back.
Things take an interesting turn when Mrs. Hunter, Allie's fourth grade teacher, announces the parts. Sometimes stardom can quickly go to one's head... even a fourth grader's!
Title:
Glitter Girls and the Great Fake Out
Author:
Meg Cabot
Series:
Allie Finkle Rules for Girls #5
ISBN:
978-0-545-04047-1
Erica's sister, Missy, is competing in the Twilacular. Allie is so excited that Erica has asked Allie and their closest friends to attend the competition. Unfortunately Allie's mom made plans for Allie to attend a birthday party on the same day.
Brittany Hauser, a frenemy from Allie's former school, is having a big birthday celebration. Her parents are renting a BMW SUV limo to take them into the city to go to Glitterati (the IT store), dinner at the Cheesecake Factory and a night in an expensive hotel. Despite her strong dislike for Brittany (you shouldn't hate anyone - it's a rule), Allie wants to go to check out Glitterati to see what everyone is raving about. How can she go after she told Erica she would attend Missy's competition? Allie exaggerates why she has to go and soon it spins out of control.
Allie quickly learns that sometimes the most expensive and exciting thing isn't always as great as it may seem.