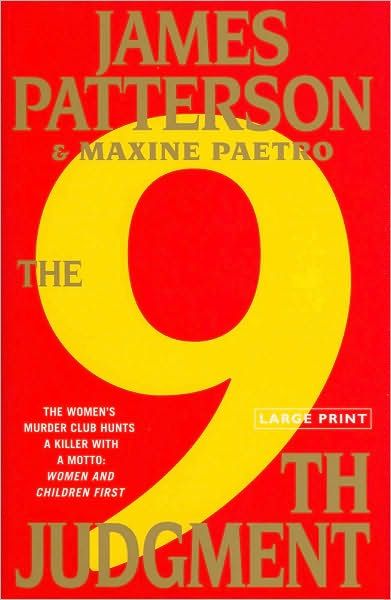 Lindsay, Claire, Yuki and Cindy are back for the ninth installment of The Women's Murder Club series. A serial killer, penned the Lipstick Killer by the police, is terrorizing the streets of San Francisco. Mothers and their children are being targeted and killed in a vicious manner. The killer only leaves one clue: a message in lipstick "WCF". Lindsay and her partner, Rich Conklin, are angry that someone is killing mothers and innocent children. They are determined to bring the killer to justice.
Lindsay and Rich are also pulled into the "Hello Kitty" case. A robber, who breaks into homes while the home owners are entertaining, to steal their jewelry. This time, the jewelry thief breaks into the home of actor Marcus Dowling and before the night is over, Casey Dowling, his wife, is shot and killed. Given his celebrity status, Lindsay and Rich have their hands full trying to solve his wife's murder.
I really enjoyed
The 9th Judgment
. It started out with a bang—literally—and did not slow down until the final page. The authors did a good job with going back and forth between the two cases. What helped with the transitions were reading the perspectives from both the Lipstick Killer and Hello Kitty. I do have to admit, I wasn't prepared for knowing the identities of both from the beginning. It added to the suspense when Patterson and Paetro revealed more of their private lives.
All in all,
The 9th Judgment
is a great addition to The Women's Murder Club series. Fans will sympathize with the police force as they race to stop the Lipstick Killer from killing innocent mothers and children. True to Lindsay's style, she risks her life to make sure justice is served. As usual, I'm waiting for the tenth book to be released. I do hope Patterson will soon allow Lindsay and Joe to marry. I want Lindsay to receive her happy ending—she definitely deserves it!
Book details:
Series: The Women's Murder Club #9
ISBN-13: 978-0-316-03627-6
Pages: 355
Release Date: April 26, 2010
Genre: Mystery/Suspense
Format: Hardback
Source: Library