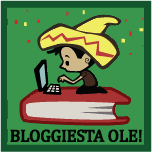 It's official! I'm starting Bloggiesta!! I'm a little late getting started thanks to working late. (Again, why does work interfere with my life?!)
First up: challenges. I have reviews that I need to link to challenges, wrap-up posts to write and post to their hosts' blogs and update my challenges page. These items have been nagging at me for awhile now, so it will be a relief to cross them off my list.
I plan to spend about 2 hours working tonight. I won't write a post for every task I complete, however I'll be updating my status on Twitter. You can follow me at @mybookandcouch.
To everyone participating in Bloggiesta, cheers to a productive weekend. Let the
PARTY
begin!