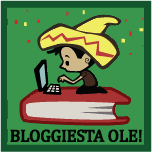 Over the weekend, I participated in my first Bloggiesta. Several weeks ago, I had fallen behind on my blog maintenance due to uncontrollable factors, so Bloggiesta came at the right time for me.
Here's what I accomplished:
Updated my "2010 Books" page to include all book reviews (I'm pretty impressive that I've reviewed all the books I read this year!)
Updated my Challenges page: linked reviews to current challenges and removed challenges that are completed
Wrote completed challenge post for Support Your Local Library Challenge
Wrote completed challenge post for The Pub Challenge
Added a "Follow Me" on Twitter button
Wrote outline for "About Me" page
Wrote outline for "Review policy" page
Wrote book ratings description (As of yet, I don't include ratings in my reviews. However, when I post to Amazon, B&N or Library Thing, I include a rating. I needed to have a more detailed description to assist me with this.)
Total hours: 10
I wanted to update my sidebars and tackle my subscriptions in Google Reader, but ran out of time. All in all, I'm happy that I finally
FINALLY
got caught up with my challenges. Those items have been nagging at me for awhile!
I participated in one mini challenge:
Embracing Community
hosted by Cass at Bonjour Cass and discovered new blogs.
I'm glad I was able to participate in Bloggiesta. I'm excited about blogging again after taking a break for awhile. Life happens and will continue to happen and things get pushed aside. The important thing is just jumped back in where you left off.