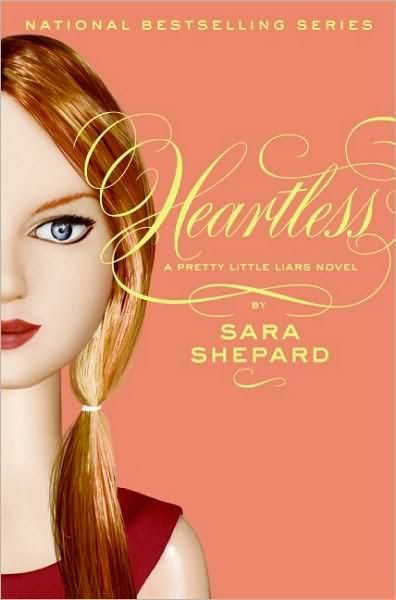 The four Pretty Little Liars are back for the seventh book of the series,
Heartless.
Aria, Hannah, Emily and Spencer swear they saw Ali alive when the woods caught fire. But the rest of the town, including the police, are getting tired of these girls and their accounts of what happened to Ali.
[Minor spoilers here - read with caution.] As the girls try to save face, A continues to send them texts about Ali's disappearance. Emily travels to an Amish community where she learns about a past life someone close to her is trying to hide; Hannah's father sends her to psychiatric facility as he thinks she's suffering from PTSD. There she meets someone who may have known Ali. Spencer learns the secrets her parents have been hiding that may destroy their family. And Aria steals evidence from the woods that could assist the police. But when a suspect is arrested for not only Ali's murder, but the murder of someone else (which I didn't see coming), the girls begin to wonder if the new A is really trying to help them or torture them.
Like the novels before it,
Heartless
begins with a flashback of the summer Ali went missing. Ali's mother realizes she isn't home from the sleepover and asks Emily, Hannah and Aria over to ask them questions about Ali. It's this scene that the girls will often think about when they search for more clues about Ali's disappearance.
Heartless
ends with a murder and an arrest and of course a cliff hanger from A. I'm filled with more questions about what really happened to Ali that night: Is she really dead? If not, then whose body was found in the hole of the gazebo Ali's parents were building? And most importantly, who is A? I guess I'll have to wait to June when
Wanted
, the eighth and final book, is released. I have to admit, as excited as I am to read this book and learn how the series ends, it will definitely be bittersweet.
Book details:
Series: Pretty Little Liars #7
ISBN-13: 978-0-06-156614-1
Pages: 277
Year Published: 2010
Genre: YA Mystery (Series)
Format: Hardback
Source: Library