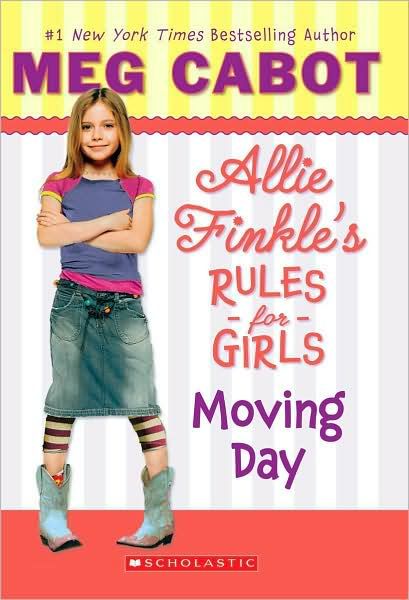 Book synopsis:

I like rules. What I'm not so crazy about is everything else.
When nine-year-old Allie Finkle's parents announce that the family is moving, Allie's sure her life is over.
She's not at all happy about having to give up her pretty pink wall-to-wall carpeting for creaky floorboards and creepy secret passageways...not to mention leaving her modern, state-of-the-art suburban school for a rundown, old-fashioned school just two blocks from her new house.
With a room she's half-scared to go into, the burden of being "the new girl", and her old friends all a half-hour car ride away, how will Allie ever learn to fit in?


My review:

My first book of Ms. Cabot's was
The Boy Next Door
(which I loved and still recommend quite often) and from there I was introduced to the Heather Wells mystery series. I've enjoyed her books so much, that I spent most of my time last year reading her young adult collection.
So when I heard she was working on a new children's series, I was curious to know more about it.
Meet Allie Finkle. She's nine years old, currently in the fourth grade, big sister to Mark and Kevin and best friends with Mary Kay. Okay, may be Allie would like to have a new best friend. Someone who doesn't cry
all the time
. Or someone who will allow Allie to decide what game to play next. Other than that, Allie's life is pretty good. Until her parents say these two small words: "we're moving".
Why would her parents leave their gorgeous home only to move into a falling-down Victorian? (Let's not
even
talk about that fact the house is probably haunted!) On top of that, her new school isn't so "new". The building is rundown and the gym is also the lunchroom! (Eww...need I say more??)
Allie has to think of something quick before her parents ruin her life. She's promised to be on her best behavior and not complain about the move. If she keeps her promise, her parents will allow her to have her very own pet: a kitten (the family also has a dog). The question is, can she stop the move, but still get the kitten?
I love Allie Finkle! Allie is a cute girl, with a big heart, who is trying to do the right thing all the time. To make sure she stays on the right path, she created rules for herself. Here are some of her rules:
When you finally figure out what the right thing to do is, you have to do it, even if you don't want to.
Don't be a braggart.
Sometimes (but not always) it's better just to keep things to yourself.
You can't let your family move into a haunted house.
If you get a new best friend, it's rude to show off about it.
If I were nine again, I would want Allie to be my friend. She's creative, energetic, spunky and just fun! I loved reading
Moving Day
and cannot wait to read more from this series.
Random tidbit:
Allie Finkle's Rules for Girls series would be a wonderful selection for a mother/daughter book club.
Book details:
Series: Allie Finkle's Rules for Girls #1
ISBN-13: 978-0-545-03947-5
Pages: 228
Year Published: 2008
Genre: Children's Fiction (Series)
Source: Library
Date Finished: October 24