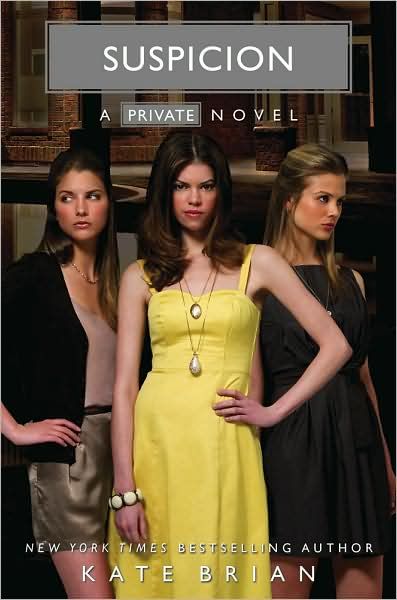 Book Synopsis:

Forbidden fruit...
Reed, Noelle, and former Billings Girls Kiran and Taylor have been living it up on St. Barths over winter break. The tropical sun has melted away all the tensions of last semester, and for the first time in months, Reed is happy. She's got her best friends by her side, she has a palatial suite with an ocean view, and she's landed Upton, the most sought-after guy on the island.
Reed is falling in love.
But dating Upton makes Reed St. Barths' highest-profile guest — and not in a good way. Upton has a dark past, and he's broken a lot of hearts. One of his exes still wants him. And she'll do whatever it takes to get Reed out of the picture.

My thoughts:
Suspicion
begins where
Paradise Lost
ended. Reed is mysteriously pushed off a yacht during a party and is treading water. She's eventually rescued by Sawyer and later taken to the hospital for observation. Terrified that someone tried to kill her, she immediately decides to go home. However, Noelle talks her into staying for the remainder of their vacation. During this time, Reed's life is threatened again, she learns the secret that Upton has been keeping and the reader learns the identity of the person who wants Reed out of the picture.
I have to say this edition to the Private series was my least favorite. I thought it was mostly "a filler" book and found myself struggling to stay focused while reading. The saving grace was the last chapter when Reed and her friends returned to Easton Academy from winter break. The unexpected has happened to their beloved Billings House. Most importantly, there's a new student starting at Easton. Which will make for quite an interesting semester for Reed.
Scandal
, book eleven will be released on March 9, 2010.
Book details:
Series: Private #10
ISBN-13: 978-1-4169-5885-7
Pages: 211
Year Published: 2009
Genre: YA Fiction (Series)
Source: Library
Date Finished: October 30