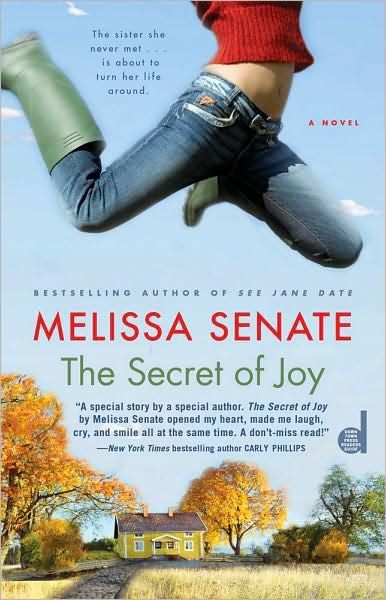 Imagine growing up wanting a sister. What would you do if that childhood wish suddenly came true? How would you respond if your father confessed to a summer affair as he lay dying? And so begins
The Secret of Joy
by Melissa Senate.
Rebecca Strand is a twenty-something woman living and working in New York City. She's a paralegal for Whitman, Goldman & Whitman. She's dating (and living with) Michael, her lawyer boyfriend, and she's contemplating their future together. A future that comes to a screeching halt when her father is diagnosed with pancreatic cancer and given weeks to live. Having lost her mother at nineteen and being the only child, Rebecca is extremely close to her father and cannot begin to envision what her life will be like without him.
During one of her hospital visits, her father discloses a summer affair with Pia Jayhawk. An affair that occurred during one of their family vacations in Maine. The affair was over before it started and Daniel Strand returned home and stepped back into his life. Out of the blue Pia calls him to tell him she's pregnant. She calls again to tell him he has a daughter. He never returned her call and remained silent about his newborn daughter and his relationship with Pia. Now that he's dying, he wants Rebecca to know the truth. A truth that may complicated her life and cause her to view him differently.
After her father's death, Rebecca begins to question her life and the direction she's headed. Is Michael
the one
? Is New York
really
her home? What about her job? The job she loathes. Does she have the courage to pursue her dream of becoming a therapist? As she ponders these questions, she begins to wonder about her half-sister. She sets off to Maine to find Joy Jayhawk, not really sure what to expect when she meets her for the first time.
When I first read the title of the book, I assumed it meant her father's secret affair and his secret daughter, Joy. But, as I continued to read about Rebecca's life and the lives of the supporting characters, I realized the title was about the secret of. . . well. . . joy. The characters are all struggling with an issue in their lives that is causing them pain and turmoil. As each comes to the fork in the road where they either move towards a resolution or continue down the same hurtful path, the author illustrates the difficult, but necessary, truths we must face in order to experience the peace we want in life. Rebecca struggles with the loss of her parents, the impact of her father's affair, not only on her, but Joy and Joy's mother. While Joy struggles with growing up without her father which resulted in her being emotionally detached from her husband.
To make amends with his decision, Daniel Strand writes a letter to Joy every year on her birthday. As Rebecca reads these letters, she begins to have insight about her father as a man and a husband. It's not until she reads the last letter he wrote to Joy that she truly understands the love he felt for Joy and how his decision kept two innocent sisters from knowing each other.
The reader will feel compassion for Rebecca as she loses the only family she knows and gains a sister she has always wanted.
The Secret of Joy
is a great read, with a likable main character and a great supporting cast. Pick it up. Read it. You won't be disappointed.
Thanks to Sarah Reidy, of Pocket Books, for providing this review copy.
Random tidbits:
If you're interested in
The Secret of Joy
for your next book club selection, there's a reading discussion guide included (there's also a Q&A with Ms. Senate, which I recommend you read as well).
Book details:
ISBN-13: 978-1-4391-0717-1
Pages: 330
Year Published: 2009
Genre: Women's Fiction
Source: Publisher provided this copy for a blog tour
Date Finished: November 15
Other blogs participating in this blog tour:
http://books-movies-chinesefood.blogspot.com/
http://bookingmama.blogspot.com/
http://frugalplus.com/
http://www.bookwormygirl.blogspot.com/
http://www.rundpinne.blogspot.com/
http://brizmusblogsbooks.blogspot.com
http://www.psychoticstate.blogspot.com/
http://www.buuklvr81.blogspot.com
http://startingfresh-gaby317.blogspot.com/
http://aseaofbooks.blogspot.com/
http://thatsanovelidea.blogspot.com
http://myfoolishwisdom.blogspot.com/
http://my-book-views.blogspot.com/
http://dreyslibrary.blogspot.com/
http://justanothernewblog.blogspot.com/
http://bookjourney.wordpress.com/
http://booksiesblog.blogspot.com
http://booknaround.blogspot.com
http://keeponbooking.blogspot.com
http://www.ziarias.blogspot.com/
http://bethsbookreviewblog.blogspot.com/
http://bridget3420.blogspot.com/
http://myreadingroom-crystal.blogspot.com
www.mybookaddictionandmore.wordpress.com
http://www.crazy-for-books.com
http://www.bellasnovella.com/
http://www.blogbusinessworld.blogspot.com
http://ilratb.blogspot.com/
http://www.myfriendamysblog.com
http://bookmagic418.blogspot.com/
http://haleymathiot.blogspot.com/
http://purplg8r-somanybooks.blogspot.com/
http://www.jeannesramblings.com
http://redheadedbookchild.blogspot.com
http://readingwithtequila.blogspot.com
http://maryinhb.blogspot.com/
http://jensbooktalk.blogspot.com/
http://molcotw.blogspot.com/
http://litandlife.blogspot.com
http://entertainmentrealm.com/