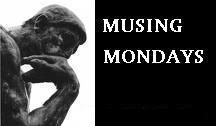 T
oday's
MUSING MONDAYS
post is about book series. . .
Do you prefer to read stand-alone books, or books in series? Do you stick with a series the whole way through or stop after the first instalment? Are there any particular series you enjoy?(question courtesy of
Elena
)
I like and read both. What I like best about series are the character development and the continuing story lines. Sometimes when reading, I end up liking a character so much, I want to know what he/she is up to next.
I prefer reading a series in order and make notes about the series and book order in my TBR list.
I've at times read a series out of order, not knowing the book belong to a series. When this happens, I try to go back and read the previous novels.
My favorite series is Alex Cross. My cousin recommended

Kiss the Girls

and I read it in two days. Fast forward to a few weeks later while discussing James Patterson (then a new-to-me-author) with a friend, I learned

Kiss the Girls

was book two and

Along Came a Spider

was first in the series. I went back and read it and have since read each Alex Cross book upon its release.
Here are some of the series I'm currently reading:
Stephanie Plum by Janet Evanovich (although I don't think the newer releases are as funny as the older books)
Pretty Little Liars by Sara Shepard (YA series)
Private and Privilege by Kate Brian (YA series)
Cedar Cove by Debbie Macomber
The Women's Murder Club by James Patterson
Flower Shop Mysteries by Kate Collins
Series I'm interesting in starting:
Gourmet Girl by Jessica Conant Park
Do-It-Yourself by Jennie Bentley
The Domestic Diva by Krista Davis