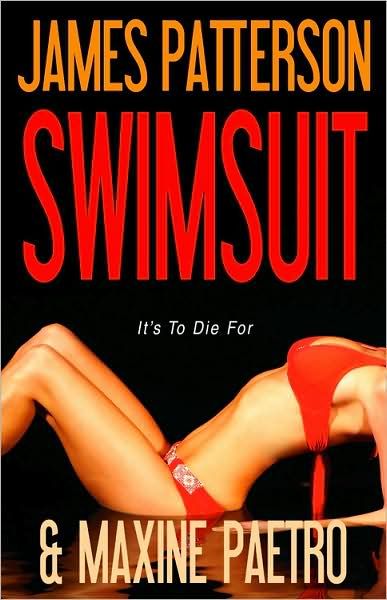 I

heart

James Patterson.
He is one of my favorite authors and Alex Cross is one of my favorite series.
When
I h
ear about upcoming releases by Mr. Patterson, they immediately are added to my TBR list. So, I eagerly anticipated the release of

Swimsuit

.

Granted, I knew very little about the synopsis. A swimsuit model goes missing in Hawaii and her parents head there to learn more about her disappearance. A former cop turned author (also a crime reported for the LA Times) is also on the case. I thought it would be a classic JP style: missing person, lunatic killer and fast-paced plot.
Actually, to me,

Swimsuit

wasn't liked that at all. It was much, much more.
Ben Hawkins meets Levon and Barbara McDaniels, the parents of the missing model Kim, while covering the story for the LA Times. He gains their trust and soon he is privy to meetings and discussions between the police and the McDaniels. He introduces them to Eddie Keloa, a private investigator, who takes on Kim's case.
Meanwhile two more murder victims are found and the police pondered if these crimes are linked to Kim's disappearance. The plot gets scarier when the McDaniels disappear without a trace.
Ben is a likable character. He's a good guy trying to make an honest living. He doesn't know how significant his role will be when he meets the McDaniels. The killer has targeted Ben to write a masterpiece: a book about the killer's murderous spree.
When Henri approaches (okay, threatens) Ben with writing the book, Ben has two choices: write the book or be killed (along with his girlfriend, Amanda). So, I ask you. . .what would your response be if you were Ben? Fearing for both his and Amanda's life, Ben agrees and spends several days interviewing Henri about his violent (and yes, psychopathic past).
What I didn't see coming was
Swimsuit
being a novel about the killer, not a novel about the missing person. That was a great twist for me. The killer is extremely violent (the scene with the ceiling fan was the worst and that's all I say about that), deep and twisted. The scenes are very graphic and being a visual reader, made it hard to read at times.
As Ben discovered more and more about Henri's relationship with the "Peepers", I couldn't turn the pages fast enough to see how this would end. Unfortunately, when the book ended, it ended. I had to read the last few pages several times because I didn't think it could be over. But it was. The ending didn't feel right to me as it was so abrupt. Now looking back, I wonder if it was done intentionally. Maybe Mr. Patterson has plans for Ben in future novels. I guess I'll have to wait and see.

Book details:
ISBN-13: 978-0-316-01877-7
Pages: 391
Year Published: 2009
Genre: Mystery/Suspense
Date Finished: August 23
Rating: C+