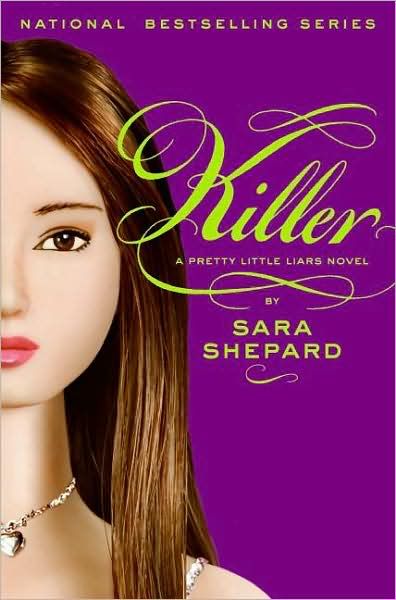 Book Synopsis:
In picture-perfect Rosewood, Pennsylvania, ash-blond highlights gleam in the winter sun and frozen lakes sparkle like Swarovski crystals. But pictures often lie—and so do Rosewood's four prettiest girls.
Hanna, Aria, Spencer, and Emily have been lying ever since they became friends with beautiful Alison DiLaurentis. Ali made them do terrible things—things they had to keep secret for years. And even though Ali was killed at the end of seventh grade, their bad-girl ways didn't die with her.
Hanna's on a mission to corrupt Rosewood's youth, starting with a very attractive sophomore. Aria's snooping into her boyfriend's past. Spencer's stealing—from her family. And pure little Emily's abstaining from abstinence.
The girls should be careful, though. They thought they were safe when Ali's killer was arrested and A's true identity was finally revealed. But now there's a new A in town turning up the heat. And this time Rosewood is going to burn.
My review:
I started reading the
Pretty Little Liars
series earlier this year. Each book ended with a cliff hanger and I couldn't wait to read what happened next with "A". I enjoyed these books so much, I read them consecutively. The only problem was I had to wait a few months for
Killer's
release.
Now that I finished
Killer
, I have to say I was worth the wait. It immediately began where
Wicked
concluded: the night of the Rosewood Day benefit held at Spencer's house. Spencer discovered Ian in the woods and when she later returned with the police, Ian was gone. He simply vanished. (I don't want to say more to prevent spoilers). While the police continue to search for Ian based on the details provided by Spencer, Aria, Hanna and Emily, they begin to wonder if these four girls fabricated their stories for attention.
Like the previous novels,
Killer
begins with a flashback. In this flashback the reader learns how the four girls became friends with Ali. Emily, Aria, Hanna and Spencer all have the idea of stealing Ali's piece of the Time Capsule flag. This is a tradition at Rosewood Day: the principal cuts the Rosewood Day flag into pieces, the upperclassmen hides the pieces around town, while the teachers post clues to their locations. When someone finds a piece, he/she can decorate it. When all the pieces are found, the flag is sewn back together and is buried in the Time Capsule. The students who find the pieces are known to be legends in the school's history. The twist to the game is another student can steal a piece from the original student who found it. Which is what Hanna, Emily, Aria and Spencer plan to do with Ali's piece.
This flashback is significant to the story. The reader learns what REALLY happened to Ali's stolen flag piece and why it's so important to her disappearance and death. As each girl continues to receive threatening texts from "A", they decide to investigate the events leading to Ali's death. As they dig deeper, they stumble on a new twist that will erase everything they knew about their friendship with Ali.
What makes this story so addicting to me is how the Ms. Shepard uses the girls' individual stories to add to the mystery behind Ali's death and "A's" hold on them. Each girl struggles with a secret, insecurity, problem, etc. "A" sends them text messages to manipulate them into doing what "A" wants by threatening to expose their secrets. Each girl discovers more clues about their friendship with Ali. The reader can't help but to wonder are these legitimate clues or just part of "A's" game? It's so hard to tell, but that's what keeps me reading. I WANT TO KNOW! The twists and turns are plenty in this series and just when the reader thinks he/she knows what will happen next, guess again.


Killer's
ending took me by surprise! The cliff hanger was shocking and left me speechless. Of course, I had more questions and wondered
did
THAT
just really happen or is this just another twist?
Again, I must wait to have my questions answered.
Heartless
, book seven, will be released in 2010.
Killer
is a must read for fans of the
Pretty Little Liars
series.
Book details:
Series: Pretty Little Liars #6
ISBN-13: 978-0-06-156611-0
Pages: 323
Year Published: 2009
Genre: YA Mystery (Series)
Date Finished: August 19
Rating: B+