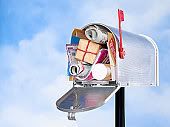 Marcia,
The Printed Page
, hosts Mailbox Monday each week. She writes:
"Mailbox Monday is the gathering place for readers to share the books came into their house last week (checked out library books don't count, eBooks & audio books do). Warning: Mailbox Monday can lead to toppling TBR piles and humongous wish lists."
Here's what I received in the mail last week:
ARCs from Miriam Parker of Hachette books:
Title:
The Last Song
Author:
Nicholas Sparks
Seventeen year old Veronica "Ronnie" Miller's life was turned upside-down when her parents divorced and her father moved from New York City to Wilmington, North Carolina. Three years later, she remains angry and alientated from her parents, especially her father...until her mother decides it would be in everyone's best interest if she spent the summer in Wilmington with him. Ronnie's father, a former concert pianist and teacher, is living a quiet life in the beach town, immersed in creating a work of art that will become the centerpiece of a local church.
The tale that unfolds is an unforgettable story of love on many levels—first love, love between parents and children — that demonstrates, as only a Nicholas Sparks novel can, the many ways that love can break our hearts...and heal them. (From Barnes & Noble)
Title:
Bo's Cafe
Authors:
Bill Thrall, Bruce McNicol and John Lynch
High-powered executive Steven Kerner is living the dream in southern California. But when his bottled pain ignites in anger one night, his wife kicks him out. Then an eccentric mystery man named Andy Monroe befriends Steven and begins unravelling his tightly wound world. Andy leads Steven through a series of frustrating and revealing encounters to repair his life through genuine friendship and the grace and love of a God who has been waiting for him to accept it. A story to challenge and encourage, BO'S CAFE is a model for all who struggle with unresolved problems and a performance-based life. Those who desire a fuller, more authentic way of living will find this journey of healing a restorative exploration of God's unbridled grace.
(From Barnes & Noble)