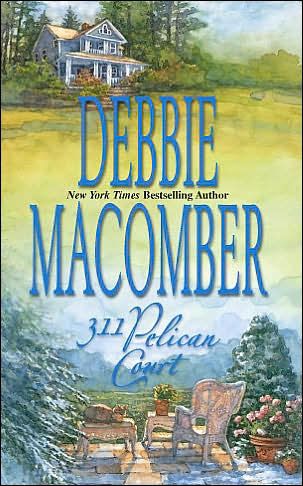 Title:

311 Pelican Court
Author:
Debbie
Macomber
Series:
Cedar Cove #3
ISBN-10:
1551667193
Pages
: 377
Year Published:
2003
Genre:
Romance
Date Finished:
June 4
From the back cover:
Rosie Cox
311 Pelican Court
Cedar Cove, Washington
Dear Reader,
One thing about Cedar Cove - people sure are interested in what other people are doing. Take me, for instance. Everybody in this town knows that my husband, Zach, and I recently got a divorce. Everybody also knows that Judge Olivia
Lockhart
decreed a pretty unusual custody arrangement. If won't be the kids moving between my place and Zach's.
We're
the ones who'll be going back and forth!
Olivia isn't immune to gossip herself. Will she stay with Jack, the guy who runs our local paper, or will she get back with her ex? Inquiring minds want to know!
But the
really
big gossip has to do with the dead guy - the man who died at a local bed-and-breakfast. Who is he and why did he show up there in the middle of the night? Roy
McAfee
, our local private investigator, is absolutely determined to find out. I hope he does - and then I'll let you know! See you soon. . .
Rosie
First sentence:
From the moment Rosie Cox entered Cedar Cove's divorce court, she'd felt a renewed sense of failure - not to mention betrayal.
My review:
I've really enjoyed this series that author Debbie
Macomber
has written. The characters are warm and engaging and the reader cannot help but to wonder what will happen next in Cedar Cove. Although this is classified as a romance novel, there's a bit of a mystery as well.
The mystery begins when Dan Sherman, Grace's husband, leaves his family. Later his body is found next to a suicide note. In the note, Dan informs Grace about an incident that happened during Vietnam. This incident has haunted him his entire life. Later we learn a stranger is found dead at Thyme and Tide Bed and Breakfast. Is his death somehow related to Dan?
Each book in this series, flows elegantly into the next one. Though the families live separate lives, the series has a small town appeal and everyone knows (and cares) for each other. If you are in search of a good series with likable characters, I'd suggest you start with book one
16 Lighthouse Road.
Soon you too will get caught up in the happenings of Cedar Cove, WA.