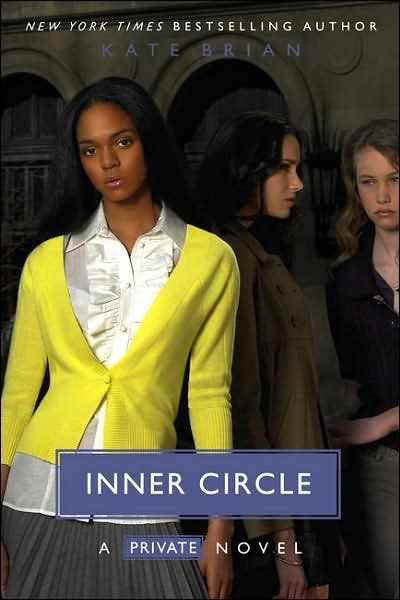 Title:
Inner Circle
Author:
Kate Brian
Series:
Private #5
ISBN-10:
1416950419
Pages:
220
Year Published:
2007
Genre:
YA Fiction
Date Finished:
May 10
From the back cover:
Last year was just the beginning. Welcome to the inner circle.
Reed Brennan arrived at
Easton
Academy expecting to find an idyllic private school experience -- challenging classes, adorably preppy boys, and a chance to create a new life for herself. Instead, she discovered lies, deception, blackmail, and...murder. But, thankfully, the killers were caught and the nightmare is finally over.
The old Billings Girls are gone.
Now, with a new school year ahead of her, Reed steps back on Easton's ivy-covered campus ready to start over. So when the headmaster announces that billings is forbidden from holding their traditional, secretive initiation, Reed is relieved. She champions the new rules and the six new girls the administration has picked to live in Billings Hall: Constance, Missy, Lorna, Kiki, Astrid, and newcomer Sabine.
But Reed's fellow Billings resident and new nemesis, Cheyenne Martin, believes the changes are a mockery of Billings history. Despite the new rules, Cheyenne vows to keep the old ways alive, no matter what -- or who -- stands in her way...

First sentence: An early morning rain had come and gone, leaving behind a wet sheen that shimmered on the trees alongside the road.
It's Reed's junior year at Easton Academy. She has returned to school determined to move forward after the tragic events of last year. Now that the Billings Girls are gone and a new headmaster has been hired, Billings House won't be the same. The new headmaster assigns six new girls to Billings, against the traditional process. This causes dissension among the current Billings Girls, which will eventually lead to an outcome that none of the girls will see coming.
Inner Circle introduces (and brings back) new characters that adds to the storyline. A former Easton Academy student returns, although not everyone is thrilled to welcome her back. After reading Confessions, I really wondered how the next book would be without the original Billings Girls. I like the direction the author is taking the series and am looking forward to reading book six. Just as each book before it, Inner Circle ends with a cliff hanger. To be continued in Legacy.