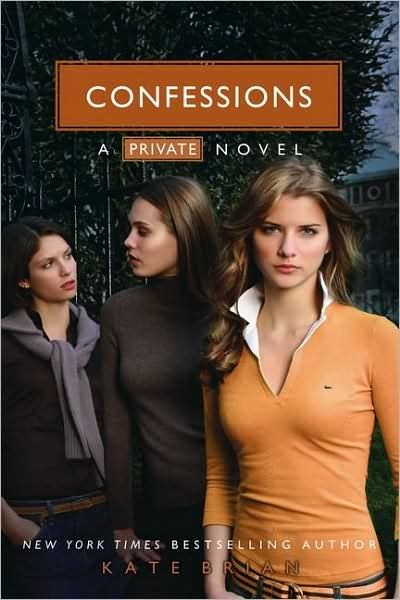 Title:
Confessions
Author:
Kate Brian
Series:
Private #4
ISBN-10:
1416918760
Pages:
232
Year Published:
2007
Genre:
YA Fiction
Date Finished:
May 9
From the back cover:
Sometimes the truth hurts. . .
Reed Brennan came to superposh Easton Academy to make a brand-new life for herself. At first it seemed as though her dream had come true-she was living in the ultraexclusive Billings Hall, hanging out with the all-powerful Billings Girls, and dating the very hot Thomas Pearson. But Thomas turned out to be different from what she thought...and then he turned up dead. And if that wasn't twisted enough, Reed's new boyfriend, Josh Hollis, was arrested for Thomas's murder.
Now everyone is back to worrying about the regular stuff, like how to sneak to the boys' dorms at night, whether two-ply cashmere is warm enough for fall, and whether to fly to London or Barcelona for Thanksgiving break.
Everyone except for Reed.
Reed is convinced that Josh is innocent, which means the killer is still out there. Now it's up to Reed to uncover the truth. But the deeper she digs, the more secrets she unearths and the closer she gets to the confession that will change everything...
if
she's alive to hear it.
First sentence:
When faced with tragedy, we gather as many people around us as we possibly can.
Now that a suspect has been arrested for Thomas's murder, the student body tries to return to normalcy. Finals are coming up and everyone is looking forward to winter break. Everyone, except Reed. Reed doesn't believe Josh could kill his best friend. She takes matters in her own hands and starts her own investigation. When Reed discovers the truth about what really happened the night Thomas was killed, she will question her decision to come to Easton Academy.
Confessions
is a quick read. When the killer's identity is revealed, we also learn the history between this person and Thomas. So, the question is, how does this affect the Billings Girls? Stay tuned for
Inner Circle
.