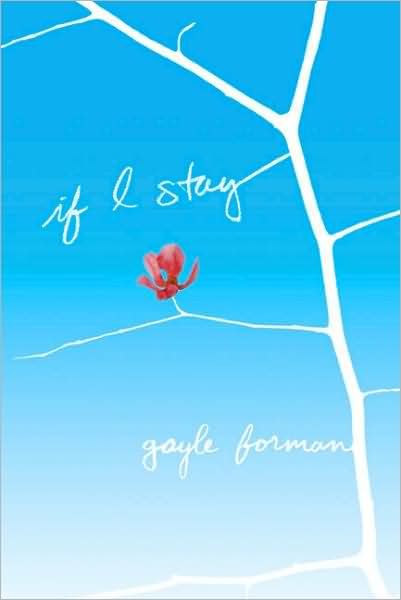 Title:
If I Stay
Author:
Gayle Forman
ISBN-10:
0525421030
Pages:
196
Year Published:
2009
Genre:
Young Adult
Date Finished:
May 25
First sentence:
Everyone thinks it was because of the snow.
Seventeen-year-old Mia may have an almost perfect life. She's a senior in high school and recently auditioned for Julliard. She's dating Adam, the lead singer and guitarist of a band, and she has a good relationship with her parents. Quite honestly, she really doesn't have anything to complain about.
Then on a snowy February day, her life forever changes. The choice is no longer should she move to New York City and pursue her dream or stay in Oregon to be with her family or Adam. The choice she now has to make is between life and death.
If I Stay
is told in the present after the car accident as Mia watches herself in a coma. Her family and friends arrive at the hospital to wait, hope and pray for her. The story also unfolds by flashbacks of Mia and her family. It's in these flashbacks where the reader comes to understand the intensity of her relationship with her parents, younger brother Teddy and Adam.
When Mia overhears an ICU nurse speaking with her grandparents, she realizes she can either choose life or death.
"You might think that the doctors or nurses or all this is running the show," she says, gesturing to the wall of medical equipment. "Nuh-uh.

She's

running the show. Maybe she's just biding her time. So you talk to her. You tell her to take all the time she needs, but to come on back. You're waiting for her."

(p. 69)
It's not until Adam arrives to see her that Mia comes to understand the impact her decision will have. Not only for her, but also for Adam and her friends and family.
Although
If I Stay
is a young adult novel, adult readers will be moved by the story too. It's a beautifully written story that I highly recommend.