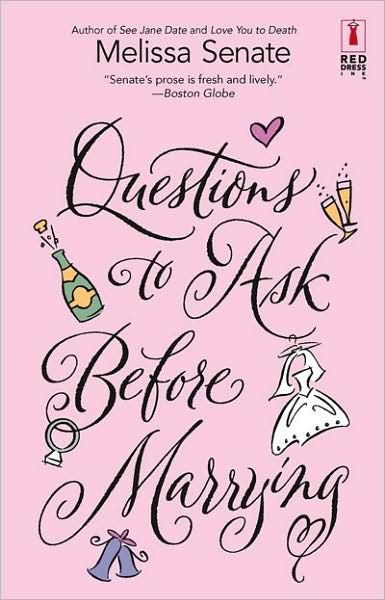 Title:
Questions to Ask Before Marrying
Author:
Melissa Senate
ISBN-10:
0373895607
Pages:
249
Year Published:
2008
Genre:
Chick Lit
Date Finished:
March 8
From the back cover:
Ruby Miller and her fiancé, Tom Truby, have questions 1 to 14 almost covered. It's question 15 that has the Maine schoolteacher stumped: Is their relationship strong enough to withstand challenges?
Challenges like…Ruby's twin sister, Stella. The professional muse, flirt and face reader thinks Ruby is playing it safe. And that the future Mrs. Ruby Truby will die of boredom before her first anniversary or her thirtieth birthday, whichever comes first.
Challenges like…sexy maverick teacher Nick McDermott, Ruby's secret longtime crush, who confesses his feelings for her at her own engagement party.
But before Ruby can plan the wedding that may never be, Stella announces she's pregnant by a one-night stand whose name might be Jake (or James? Maybe Jason?) and who lives somewhere under the glittering lights of Las Vegas. Ruby and Stella hit the road to find him—with a lot more than fifteen questions.
And after three thousand miles, a stowaway relative and hitchhiking teen lovebirds bound for an Elvis wedding chapel, the Miller sisters might get some answers.
First sentence:
According to an often-referenced
New York Times
article, there are fifteen questions you should ask yourself and The One before marrying.
My review:
Having read Ms. Senate's previous novels, I was looking forward to reading
Questions to Ask Before Marrying.
I found it to be a quick, light read (finished it in one-sitting), however I didn't enjoy it as much as I enjoyed the others.
Stella and Ruby are sisters and are complete opposites. From their outer appearances, their views on life, their personalities, to their relationship with men. Despite their differences, both sisters truly love each other. Both are adjusting to life several years after their mother's death. As young girls, their father abandoned the family leaving the women to form a tight bond.
When Ruby announces her engagement to Tom, Stella begins to question Ruby's true feelings towards him. She doubts there is any passion between Ruby and Tom and wonders what the real reason is behind Ruby agreeing to marry him. As a way to get Ruby to think more about her relationship, Stella concocts a road trip to Las Vegas to find a man she spent one night with to inform him she's pregnant with his child. Ruby reluctantly agrees. It's on this trip that Stella and Ruby begin to deal with unanswered questions from their past.
In case you're interested, here's the article this book is based on:
Questions Couples Should Ask (Or Wish They Had) Before Marrying.