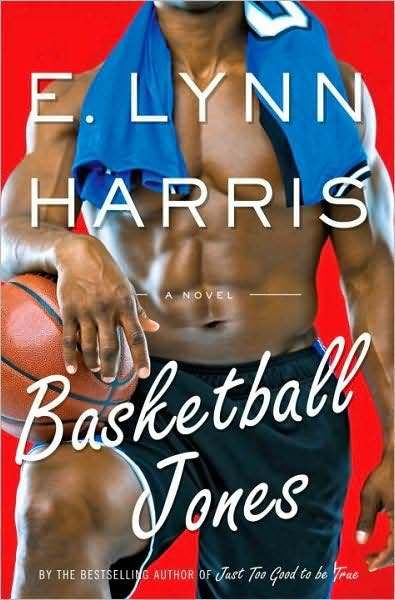 Title:
Basketball Jones
Author:
E. Lynn Harris
ISBN-13:
9780767926270
Pages:
246
Year Published:
2009
Genre:
African-American Fiction
Date Finished:
February 26
From the dust jacket:
Aldridge James "AJ" Richardson is living the good life. He has a gorgeous town house in always flavorful New Orleans, plenty of frequent-flier miles from jet-setting around the country on a whim, and an MBA—but he's never had to work a regular job. He owes it all to his longtime lover, Dray Jones. Dray Jones the rich and famous NBA star. They fell in love in college when AJ was hired to tutor Dray, a freshman on the basketball team. But Dray knew if he wanted to make it to the big time, he must juggle his public image and his private desires Built on a deep, abiding love, their hidden relationship sustains them both, but when Dray's teammates begin to ask insinuating questions about AJ, Dray puts their doubts to rest by marrying Judi, a beautiful and ambitious woman. Judi knows nothing about Dray's "other life." Or does she?
In
Basketball Jones
, E. Lynn Harris explores the consequences of loving someone who is forced to conform to the rules society demands of its public heroes. Filled with nonstop twists and turns, it will keep readers riveted from the first page to the last.
My thoughts:
I've read all of Mr. Harris's fiction works and was excited to hear he has two set to release in 2009.
Basketball Jones
is about the relationship between a famous athlete and his boyfriend. A lot is expected of AJ to be in this relationship with Dray: move whenever Dray says to, cancel plans at the last minute if Dray can get away from his wife or the team, pretty much be at Dray's disposal. However, for AJ, there are perks to being with Dray as well: new, furnished paid-for homes, expensive cars, clothes, pretty much the best of everything. For AJ, is this enough, having these perks, or would he give it all up if he could publicly be with Dray?
Soon, Dray and AJ receive threatening notes and calls to "out" their relationship if they do not respond to the blackmailer's demands. The questions become: who is blackmailing them and who how does this person know the intimate details of their relationship? A relationship that both men have gone to great lengths to keep secret.
Thoughts about the ending:
Early in the novel, I figured out the blackmailer's identity and the motive behind it. The plot was predictable, however I still enjoyed it. After finishing the novel, my immediate thought was: wow that's it? Surely, there has to be a sequel. Without giving away the ending, I would like for Mr. Harris to do a "where are they now" novel, as I'm curious to know more about their lives 2 or 3 years from now.
Random thoughts about the author:
I first discover E. Lynn Harris in high school. I was going on vacation with my parents and needed a book for the long drive. I was looking for something different and decided to read
Invisible Life
. Little did I know this book would lead me to a new author. Each year, Mr. Harris is interviewed by the morning show I listen to on the radio. I love his energy, his enthusiasm and that he sounds down to earth. I hope to one day attend a book signing, as I would love to meet him in person.
Another book I reviewed by him:
Just Too Good to Be True