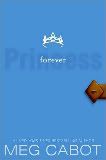 Title:
Forever Princess
Author:
Meg Cabot
Series:
The Princess Diaries v. 10
ISBN-13:
978-0-06-123292-3
Pages:
383
Genre:
Young Adult Fiction (Series)
Year Published:
2009
Date Finished:
February 28
From the dust jacket:
It's Mia's senior year, and things seem great. She aced her senior project, got accepted to her dream college(s), and has her birthday gala coming up. . .not to mention prom, graduation, and
Genovia's
first-ever elections.
What's not to love about her life? Well. . .
Her senior project? It's a romance novel she secretly wrote, and no one wants to publish it.
Prince Phillipe's campaign in the

Genovian

elections isn't going well, thanks to her totally loathsome cousin

René

, who decided to run against him.
Her boyfriend, J.P., is so sweet and seemingly perfect. But is he

the one

?
And her first love, Michael, is back from Japan. . .and back in her life.
With
Genovia's
and her own future hanging in the balance, Mia's got some decisions to make: Which college? Which guy? How can she choose? Especially when what she decides might determine not just the next four years, but. . .forever!
My thoughts:
Princess Mia and her friends are back for their senior year. Finals, prom and graduation are days away and everyone has
senioritis
. As everyone is excited to leave
AEHS
and start college, Mia is struggling with being honest with herself and her friends. She's been dishonest about her college acceptance and her senior project. Michael's return from Japan sets in motion a chain of events that forces Mia to finally be honest and see what has been in front of her all these years.
Thoughts about the series:
Overall, I enjoyed this book and the entire series. When I read
The Princess Diaries
for the Young Adult reading challenge last year, I didn't intend to read the entire series. However, the more I read, the more I liked the characters and wanted to know more about Mia's life. After finishing
Forever Princess
, I was sad to see the series end! Hopefully, Ms. Cabot will allow the readers a glimpse into Mia's life at college. We'll see. . . I highly recommend this series.