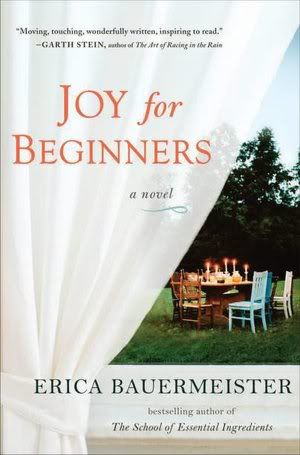 Joy for Beginners
by Erica Bauermeister
Narrated by Cassandra Campbell
At an intimate, festive dinner party in Seattle, six women gather to celebrate their friend Kate's recovery from cancer. Wineglass in hand, Kate strikes a bargain with them: to celebrate her new lease on life, she'll do the one thing that's always terrified her: whitewater rafting down the Grand Canyon. But if she goes, each of them must promise to do one thing in the next year that is new, or difficult, or scary - and Kate gets to choose their challenges.

Shimmering with warmth, wit, and insight, Joy for Beginners is a celebration of life: unexpected, lyrical, and deeply satisfying.
My Thoughts:
Joy for Beginners
is a book about second chances. Each woman is looking forward to a fresh start, a chance to correct past mistakes and move forward. The chapters can be viewed as short stories, as each woman's story is told in alternating chapters. The reader gets an in depth look into the womens' lives. Kate accurately chooses a challenge that will push them outside their comfort zone and moves them toward the life they've imagined.
Narration:
This was my first audio book narrated by Campbell. At times I thought the characters' voices started to sound the same and it was hard to distinguish between them. As a result, I felt lost at times and had to think back to the beginning of the chapter to remind myself who was speaking.
Final words:
I thought I would love
Joy for Beginners
as much as I did the author's debut novel,
The School of Essential Ingredients
. Sadly this was not the case. I did like it, however I think this one was a book I should have read and not listened to. The confusion with the voices prevented me from feeling connected to the characters.
__________________
Audiobook Details:
Release Date: June 9, 2011
Publisher: Penguin Audiobooks
Length: 7 hours, 55 minutes
Genre: Women's Fiction
Source: Audiobook borrowed from library