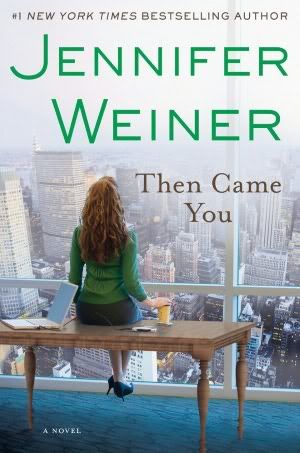 Title:
Then Came You
Author:
Jennifer Weiner
ISBN:
9781451617726
Pages:
352
Publisher:
Atria
Release Date:
July 12, 2011
Genre:
Women's Fiction
Source:
My bookshelves
When Jules is first approached about donating her eggs, she's dubious. Despite being a senior at Princeton with a bright future ahead of her, Jules has harbored a family secret. Her father, once an upstanding and respected teacher, was arrested for drunk driving. Since his arrest, he continues to battle his alcohol addiction. As a result, he lost his marriage and his children. Jules begins to reconsider the offer to donate her eggs. With the money she receives, she'll be able to pay for the help her father so desperately needs.
India is married to Bettina's father Marcus. Bettina is highly protective of her father and thinks India married him for his wealth. Bettina thinks everything about India is fake, including her name. She hires a private investigator to dig into India's past. What she finds is quite startling.
Annie is a young mother of two boys. She's happily married to Frank, although financial problems weigh them down. To help out, she decides to become a surrogate. The money will go towards their debt and monthly bills. Annie has her family's best interest in mind, however Frank feels threatened by the money and the new relationship she's forming with India.
Told in alternating chapters, the reader is able to delve into the lives of these four women. Normally I prefer novels that are written this way, especially if there are multiple narrators. For some reason, it didn't work for me with
Then Came You
. And here's why: despite being in different life stages, the women's voices sounded the same to me. It was hard to differentiate between the characters. Several times, I had to return to the first page of the chapter to remember which character was speaking. Despite the introspective look into each woman, I never felt connected to the characters. When India's secret is finally revealed, it wasn't as shocking as I thought it could be.
The path that eventually leads the women to each other is bumpy. The choices each have made along the way have come with consequences. In the end, the book wrapped up a bit to neatly for me.