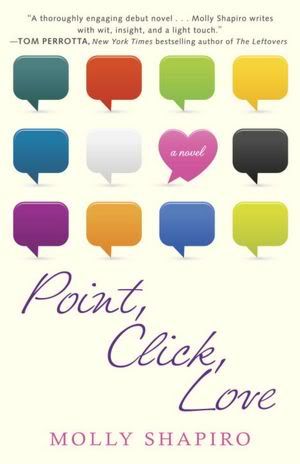 Katie is a divorced mother of two. She no longer believes in true love. It's more like "true lust". She has been fine with not having a man in her life for the last two years. Until now. She desperately craves a casual, sexual relationship and decides to sign up with an online dating service.
Claudia is married to Steve. Steve has been out of work for quite some time. Instead of scouring the newspaper job section, he sits on the couch channel surfing and updating his Facebook status. Claudia has tried to be patient with him, but money is tight and she's tired of being the only employed spouse. She doesn't understand Steve's fascination with Facebook and what he could possibly be posting all day.
Maxine is married to Jake. From the outside looking in, they appear to have the perfect marriage. Only Maxine knows the truth: their marriage is in trouble. And has been for quite some time. When she discovers her husband has been texting a gorgeous younger doctor, she fears her marriage may be over.
Annie was born and raised in New York City. She relocated to Kansas City for her career. If truth be told, she also wanted a fresh start after the breakup with long-term boyfriend. Thinking their relationship would end in marriage, Annie was devastated when he announced he did not want to marry her. Now it's years later and Annie's biological clock is about to explode. Perhaps marriage isn't in her future, but being a mom is. Who needs a husband when she can visit the local sperm bank?
Point, Click, Love
is a tale about four friends facing the issues of dating and marriage today. From online dating, Facebook hookups, to inappropriate texts, Shapiro explores how each can destruct a relationship. From the beginning, I was entertained with this novel. I definitely could relate to Claudia's confusion about what her husband was posting on Facebook. His need to create a world where everything is light and carefree was understandable to a point. I mean who really wants to post how miserable your life really is? As I continued to read, his behavior began to irritate me.
I've been looking forward to reading
Point, Click, Love
for quite some time. I'm disappointed I didn't enjoy it as much as I had hoped. Halfway through the novel, I began to disconnect from the characters. There are some scenes that may come across as humorous, but for me the characters appeared desperate. I cringed at some of the choices they made. What I thought would be a light, fun read turned into a serious look into the do's and don'ts of relationships. Now that I write that, I don't think it is a bad thing.
______________
Book Details:
ISBN: 9780345527639
◆
272pgs
◆
Dec 20, 2011
◆
Ballantine Books
ebook provided by Publisher via NetGalley