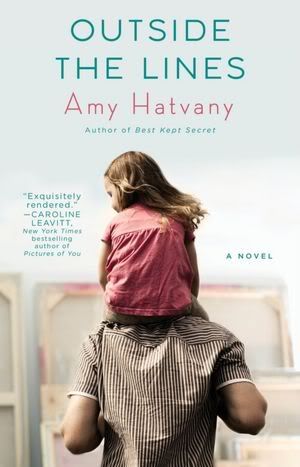 Outside the Lines
by Amy Hatvany
It's About:
When Eden was ten years old she found her father, David, bleeding out on the bathroom floor. The suicide attempt led to her parents' divorce, and David all but vanished from Eden's life. Since childhood, she has heard from him only rarely, just enough to know he's been living on the streets and struggling with mental illness. But lately, there has been no word at all.
Now in her thirties, Eden decides to go look for her father, so she can forgive him at last, and finally move forward. When her search uncovers other painful truths⎯not only the secrets her mother has kept from her, but also the agonizing question of whether David, after all these years, even wants to be found⎯Eden is forced to decide just how far she'll go in the name of love. (From the back cover)
My Thoughts:
Outside the Lines
is a book that grabs the reader from page one. Early on I was invested in Eden and her search for her father. I wanted Eden to reconnect with David in order for her to heal from the void his absence had created. With each new clue to his whereabouts, I found myself filled with emotion: excited that she may see him again, but yet fearful that David's story may not have a happy ending.
Hatvany tells the story of David and Eden in both their voices, which was the strength of the novel for me. Chapters alternate from the past to the present as David and Eden take turns narrating. Hatvany's transitions are so smooth, that I quickly adjusted and did not have to rely on the chapter headings to inform me if it was David or Eden, past or present.
Reading David's struggles with staying on his medication and trying to live a "normal" life in his voice was refreshing. I don't think I would have been as captivated with him had I read about him from Eden's (or her mother's) perspective. Hatvany's talent lies within creating characters the reader cares about and keeps in her thoughts long after the book is put down.
Eden is a complicated character. She's successful in her career, dreams about owning a restaurant, and has family and friends who care about her. But yet it's hard for her to truly love another man because of the unresolved issues she has with her father. She's dedicated to finding David, not only to see him again, but she also realizes it's necessary for her self-growth and to face the future that awaits her.
Outside the Lines
is a gripping novel about how mental illness not only impacts the individual with the diagnosis, but also the family. If you're looking for a story rich with family dynamics and likeable, flawed characters, you will not want to miss
Outside the Lines
. Highly recommended.
______________
Book Details:
ISBN: 9781451640540
◆
February 7, 2012
◆
384pgs
◆
Washington Square Press
◆
Fiction
Print copy provided by the publisher