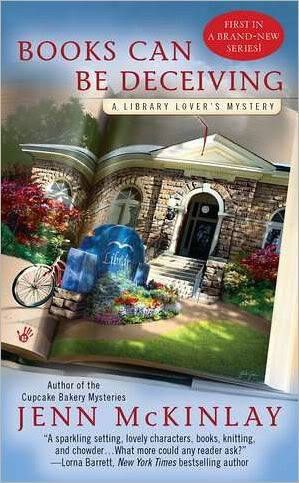 Books Can Be Deceiving
by Jenn McKinlay
Library Lover's Mystery Series, Book 1
It's About:
Lindsey Norris is the newest resident of Briar Creek. She is the director of the Briar Creek Public Library. After experiencing several personal setbacks, Lindsey finally believes she has found her new home.
When Sydney Carlisle, a hot-shot New York editor, comes to town for a quiet getaway, Beth Stanley, Lindsey's best friend, is excited to meet her. Beth has aspirations of becoming a published children's author. Her boyfriend, Rick, considers her work to amateurish and she doesn't think she has a chance to be published.
When Rick is found murdered, Beth is the police's number one suspect. Can Lindsey find the killer's identity before Beth is arrested?
Thoughts:
First, how cute is this cover? The library is so inviting; I just want to go inside and browse the shelves! Which is the main reason I was looking forward to starting this series. A cozy series that takes place in the library! As I library lover, this is right up my alley.
In
Books Can Be Deceiving,
McKinlay takes her time setting up the murder. This doesn't mean it's a slow-moving plot. Quite the opposite. I actually preferred this because it allowed me to get to know the characters. The scenes are written so vividly, I had no problem picturing the library, which in a way is another character in the book.
Lindsey, Beth and the supporting characters make this cozy a delightful read. There's a hint of romance for Lindsey, which I am glad the author didn't rush into in the first book. The mystery is light, with several twists as Lindsey finds each clue that eventually leads her to the killer's identity.
Lasting impression:
Books Can Be Deceiving
is book and library lover's wish for a cozy series. It's off to a good start and I cannot wait to read the second book,
Due or Die
. Luckily for me I have a copy sitting on my bookshelves.
Recommended to readers if:
you are a library lover
you are looking for a new cozy series
you read McKinlay's Cupcake Bakery Mystery series
______________
Book Details:
ISBN: 9780425242186
◆
July 5, 2011
◆
304pgs
◆
Berkley
◆
Cozy Mystery
Print copy provided by the publisher