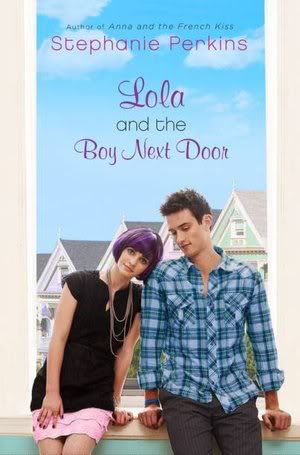 Lola and the Boy Next Door
by Stephanie Perkins
It's About:
Budding designer Lola Nolan doesn't believe in fashion . . . she believes in costume. The more expressive the outfit - more sparkly, more fun, more wild - the better. But even though Lola's style is outrageous, she's a devoted daughter and friend with some big plans for the future. And everything is pretty perfect (right down to her hot rocker boyfriend) until the dreaded Bell twins, Calliope and Cricket, return to the neighborhood.
When Cricket - a gifted inventor - steps out from his twin sister's shadow and back into Lola's life, she must finally reconcile a lifetime of feelings for the boy next door. (From Amazon)
Why I picked it off the shelf:
I read
Anna and the French Kiss
last year and loved it.


Thoughts:
I had high expectations for
Lola and the Boy Next Door
from page one. Perkins immediately sucked me in with her successful and realistic story of teenage love in
Anna and the French Kiss
. I practically devoured it in one afternoon and thought I would do the same with
Lola and the Boy Next Door.
So I was a bit surprised that it took me awhile to get acquainted with the characters. Lola is quirky. She dresses in colorful wigs and clothes that one may describe as "costumes". She's a bit of a loner, although she has a best friend that she hangs with. She's raised by two gay fathers and is dating a 22-year old guy in a band.
Buried underneath the wigs and outlandish clothes is a young girl with issues. She's discovering who she is, she's insecure and she desperately tries to do the right thing. In some cases, she doesn't make the best of decisions. Most of her struggles are played out in her relationship with Max. Early on, the reader gets the sense this relationship will not end well. As much as I didn't like Lola with Max, he played an important role with her self-discovery.
And then there's Cricket. The boy next door. The guy she can't allow herself to forget no matter how hard she tries. But when he returns, Lola comes to a crossroads: continue moving forward with Max or confront her unresolved feelings for Cricket.
Although I was not enamored with
Lola and the Boy Next Door
as I was with
Anna and the French Kiss
, I still enjoyed it. Perkins is a talented author and I am looking forward to reading her next novel.
Recommended to readers if:
if read Anna and the French Kiss and wonder what she's up to now
you love a teen story with quirky characters
you enjoy reading about first love
______________
Book Details:
ISBN: 9780525423287
◆
September 29, 2011
◆
384pgs
◆
YA Fiction
ebook downloaded from my library's website