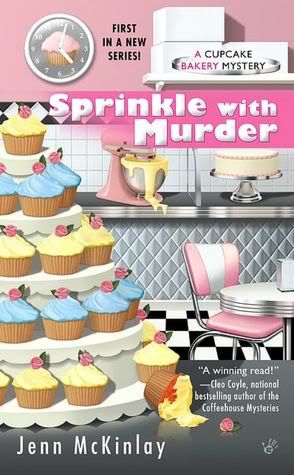 Title:
Sprinkle with Murder (#1)
Author:
Jenn McKinlay
About:
Sprinkle with Murder is the first book in the
Cupcake Bakery Mystery
series starring Mel, Angie and Tate. Mel and Angie are the owners of Fairytale Cupcake Bakery. Tate is engaged to an overly dramatic and controlling woman. When she's found dead, Mel is the number one suspect.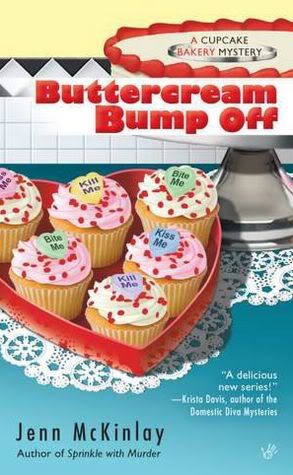 Title:
Buttercream Bump Off (#2)
Author:
Jenn McKinlay
About:
Mel's mother has been widowed for years. She's finally reading to date again and asks Mel for advice. The man she dates is a shady character and ends up dead before their date is over. Mel finds herself involved in locating the killer before her mother is arrested.
Title:
Death by the Dozen (#3)
Author:
Jenn McKinlay
About:
Mel and Angie compete in a bake off in order to bring more business to Fairytale Cupcake Bakery. When Mel's mentor is found dead on the first day of the competition, Mel investigates to solve his murder.
The Cupcake Bakery Mystery series is one that has been on my "new series list to read" since I first saw the cover of
Sprinkle with Murder.
These covers are so cute! I knew I had to read the books. When I discovered my library owned the ebooks, I immediately downloaded all three and read them over the holidays.
Although I figured out the killer early on in book one, I still wanted to read more about Mel, Angie and Tate. There is a hint of romance between the two of three characters, that I can't help but to wonder if they end up together how it will impact the friendship and course of the series. Having said that, I'm anxiously waiting for
Red Velvet Revenge
(book 4) to be released this summer.
Recommended to readers if:
you have a sweet tooth and enjoy reading a foodie mystery

you want a quick mystery to curl up with on a lazy afternoon

you are looking for a new cozy series to start reading