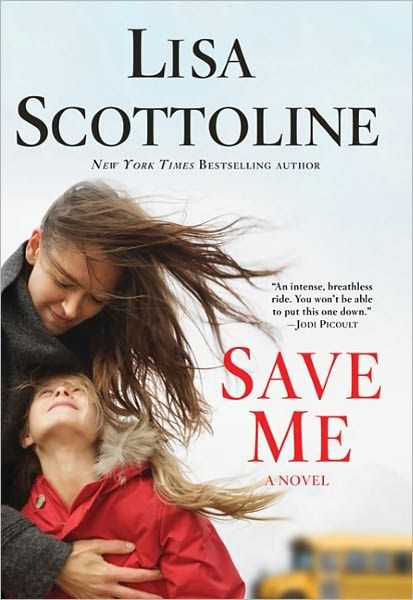 Save Me
by Lisa Scottoline
Narrated by Cynthia Nixon
Review:
Melly is different than the other girls in her class. She doesn't play with the American Girls dolls or wear cute dresses. She has a birthmark on her face that makes her an easy target to be teased by the other school children. And that is exactly what Amanda does the day Rose, Melly's mother, volunteers as lunch mom. Rose witnessed Amanda smearing jelly on her face to make fun of Melly. Melly starts to cry and runs out of the lunch room. This isn't the first incident of Amanda bullying Melly. Rose speaks to Amanda about her behavior just as another volunteer approaches. She scolds Rose saying the moms are not allowed to reprimand the children, it's the responsibility of the teachers. The volunteer leaves to find a teacher. The moment Rose, Amanda and two other girls are about to leave the lunchroom, the kitchen explodes .
Rose frantically tries to get the girls out of harm's way so she can rescue Melly from the bathroom. Thinking she led the girls to safety, she sets out in search of her daughter. Relief sets in when she's able to locate her and rescues her from the burning school. Minutes later Rose learns that Amanda did not make it out of the lunchroom. Soon the other parents turn on Rose for her negligence of not getting Amanda out of the school. Everyone begins to think this is Rose's way of punishing Amanda for bullying her daughter.
When I first began reading
Save Me
, my expectation was it's a story about a mother trying to save her daughter from the school bully. So I was very surprised when the storyline went into an entirely different direction. The plot is full of twists and turns, although it's a little far-fetched, at times.
Narration:
My original intent was to read
Save Me
. Then I learned Cynthia Nixon narrated the audio book. I've heard glowing reviews about her as a narrator and decided to listen to the audio book instead. I'm glad that I did. Nixon did a fantastic job bringing the characters to life. Quite honestly, I think had I read the book, I may have skimmed and even skipped pages here and there. But Nixon kept me invested in the story. I will definitely seek out other books that she has narrated.
_______________
Length: 11 hours
Publisher: Macmillan Audio
Source: Library