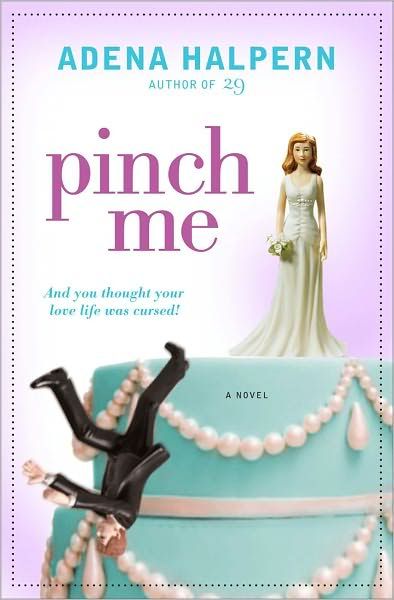 Pinch Me
by Adena Halpern
Lily's mother Selma and grandmother Dolly want the best for her. They really do. So it may seem a bit odd th?at they tell her to marry an ugly man. Better yet, just never fall in love. Lily takes heed to their advice and dates a lot of not nice guys (putting it mildly) and throws herself into her work. Then she meets Gogo. He's kind and sweet and a perfect gentleman. Much to Lily's dismay, she finds herself falling for him… hard.
It's not surprising that he proposes during a romantic trip to Paris. When she tells Dolly and Selma about her engagement, instead of showering her with hugs and kisses and excitement about her upcoming nuptials, they inform her that their family is cursed. Yes, that's right… cursed! If they marry a man they love, something bad will happen to him. It happened with Dolly's husband and several of the men Selma married. In fact, both Selma and Dolly are holding back on their feelings with two men in their lives in fear that they too will become victims of the curse.
Lily finds all of this hard to believe. She informs Gogo (he too is skeptical) and he suggests they fly to Vegas to elope. Everything is going exceptionally well until Lily asks Gogo to pinch her because she thinks it's too good to be true. And it is. After she feels the pinch, she wakes up alone and in this "life" Gogo is married to someone else and doesn't know who is she. Maybe, there's truth to this family curse after all!
Pinch Me
is a creative and imaginative story that is filled with humorous antics. Lily will go to the extreme to fight for her happy ending. Whether you're new to this author or have read her previous works, you will enjoy reading this engaging tale. Recommended.
______________
Book Details:
Pub. Date: July 19, 2011
Publisher: Touchstone
Pages: 288
ISBN: 9781439171141
Genre: Fiction
Source: Publisher via Galley Grab