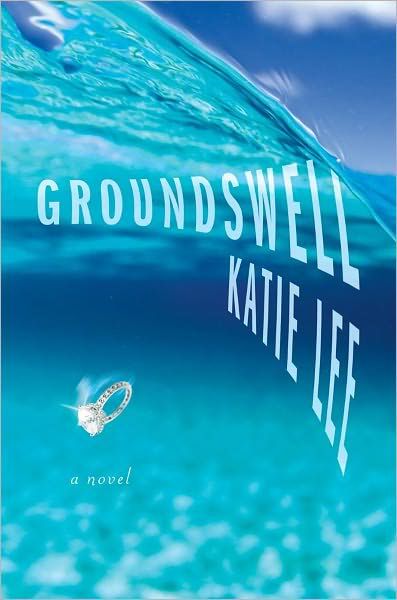 Groundswell
by Katie Lee
Emma Guthrie is a Kentuckian turned New Yorker when the reader is first introduced to her in Lee's debut novel. She's struggling to make ends meet after she has to give up her college scholarship. Not wanting to return home and face her sister's "I told you so", Emma hangs in there hoping one day things will get easier.
And then they do. She's offered a position as a PA for a Garrett Walker movie. Things begin to move at a rapid pace when Emma first meets Garrett. A quick meeting in his trailer leads to him asking her out to dinner. Before long, they're dating and he's whisking her away to St. Barts for the holiday. As expected their whirlwind relationship leads to marriage and with Garrett's assistance Emma writes a screenplay that winds up being the blockbuster of the summer.
After seven years of marriage, Emma has left her old life behind. Being Mrs. Walker definitely has its perks. Emma's life is good and she appears to be happy and have everything she's ever dreamed of. But when she's given her husband's cell phone by mistake and sees a text from another woman, Emma realizes her world may not be so perfect after all.
Groundswell
is the ideal beach read. Immediately I found myself drawn into the story and within two hours, I had read over half the book. Lee begins the story with Emma reading the text on her husband's phone and then flashes back to how they met. The story then returns to Emma and the text and continues from there.
Not much emphasis is placed on the seven years the couple was married. Actually, I didn't have an issue with that. Lee painted a picture of their marriage so the reader did not have to know every detail. At times, the story was predictable and I saw the ending long before I finished the book. I still found myself invested in the story and cheered Emma on.
I do have to say it reminded me a bit of
Flirting with Forty
by Jane Porter and
How Stella Got Her Groove Back
by Terry McMillan. A woman decides to travel to escape the craziness of her life and ends up meeting a gorgeous guy. So, if you've read and enjoyed either of these books, then be sure to pick up
Groundswell
. Even if you haven't read either book (I suggest you do - both are very good), throw
Groundswell
in your beach bag anyway. Being a little over 200 pages, you can devour it in one sitting.
______________
Book Details:
Pub. Date: June 21, 2011
Publisher: Gallery
Pages: 240
ISBN: 9781439183595
Genre: Beach Read, Contemporary Fiction
Source: Publisher (for participation in blog tour)