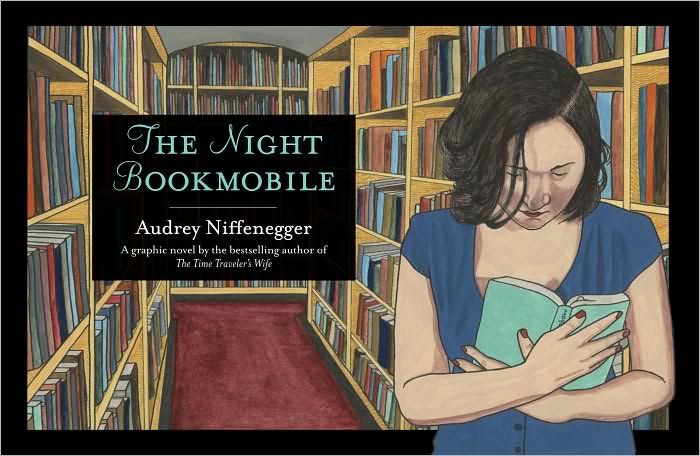 The Night Bookmobile
by Audrey Niffenegger
Alexandra first encounters the Night Bookmobile after an argument with her boyfriend Richard. She's walking home late at night when she noticed the Winnebago. Thinking it odd, but not feeling afraid, she approached the vehicle and noticed an older man reading a newspaper. He invites her in and she quickly realizes the Bookmobile has every book she has read on its shelves. Confused by this, Alexandra starts to question Mr. Openshaw, but he politely tells her the library is now closed. Its hours are from dusk to dawn.
She returns home to find Richard waiting for her. She explains what happened, but Richard flat out doesn't believe her. From that moment on, Alexandra becomes obsessed with finding the Bookmobile again. Richard eventually leaves her and she spends every moment, when she's not working, reading Every night she walks in hopes of seeing the Winnebago. Nine years later, her path crosses with Mr. Openshaw again.
This time she asks him if she can work for him. He declines and suggests she becomes a librarian. She immediately goes to school and upon graduating, she is hired at a new library branch in Chicago. Years later she meets Mr. Openshaw again and asks if she can work for him. Again he refused.
This time, the rejection is too much for Alexandra to handle. She begins to resent all the time she has spent reading and that she allowed her life to pass her by while she primarily focused on books and building her collection.
I'm not sure what I expected when I picked up
The Night Bookmobile
. The ending definitely caught me off guard, so much so that I had to reread it. What began as a light, quick read turned very dark quickly. The ending left me full of questions as I wondered what will happen next for Alexandra.
Be sure to read the author's "After Words" upon finishing the story. It will provide insight on the novel.
______________
Pub. Date: September 10, 2010
Publisher: Abrams ComicArts (An imprint of Abrams)
Pages: 40
ISBN: 978-0-8109-9617-5
Genre: Graphic Novel
Source: Library