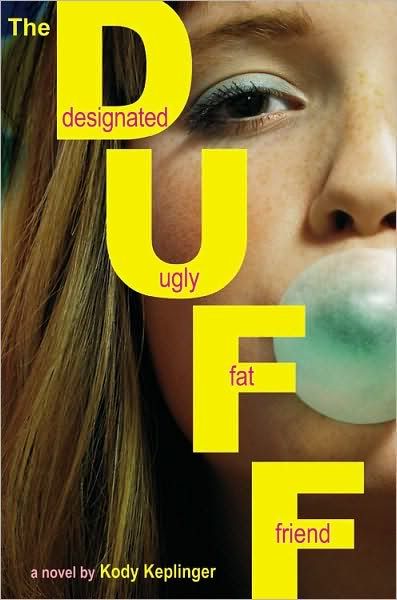 The DUFF: Designate Ugly Fat Friend
by Kody Keplinger
Review:
Bianca Piper is not the prettiest of her friends. Well, that's what Wesley Rush thinks anyway. He tells her she's the "Duff". Designated Ugly Fat Friend. See, Wesley's plan is to be nice to Bianca in order to get closer to her two gorgeous friends, Casey and Jessica. And just who is Wesley Rush? He's the hottest, richest guy in their high school. Every girl has a crush on him. Almost every girl, anyway. Bianca certainly doesn't believe in young, teen love and really doesn't see why other girls are fascinated with Wesley. He's really NOT all that.
Bianca is furious with Wesley for labeling her this way. She vows not to speak to him and avoids him at all costs. But this changes when she's paired with him for a school project. What started out as a "I HATE YOU" relationship turns into an enemies with benefit relationship. Bianca and Wesley start sleeping together and initially Bianca feels she has it under control. Sex with Wesley is a means to an end. She's using him to distract herself from how terrible and out of control her home life is. Soon, things take an unexpected turn for Bianca when she realizes she has developed feelings for Wesley.
The DUFF
may not be a book for all readers (but in fairness, can't that be said for any book?) due to its sexual content. Yes, Bianca and Wesley have a lot sex. . . casual sex which raises red flags given their age. It's quite easy for the reader to quickly judge Bianca for her actions and easily conclude she's no different from the girls she ridicules.
It's here where the reader needs to take a step back and focus on why she makes these decisions. The world that she knows, the world that she's so protective of is falling apart and there's nothing she can do but watch it crumble. To distract her from the pain, she sleeps with Wesley. But what she doesn't realize is her emotions are causing her to connect to him on a level that is just as equally frightening.
Bianca certainly isn't an easy character to like. She's cynical, flawed and very judgmental. She's secretive and withholding, but she's scared and so insecure. She's a teenage girl who sometimes doesn't make the best decisions. Although circumstances may be different, some readers may see a little of themselves in Bianca.
The DUFF
was a quick read for me, as I read it in less than three hours. I admit, I picked it up for that reason only so I was quite surprised that I was still thinking about it days later. Recommended.
______________
Book Details:
Pub. Date: September 7, 2010
Publisher: Poppy, an imprint of Little, Brown Books for Young Readers
Pages: 277
ISBN: 9780316084239
Genre: Young Adult
Source: Library