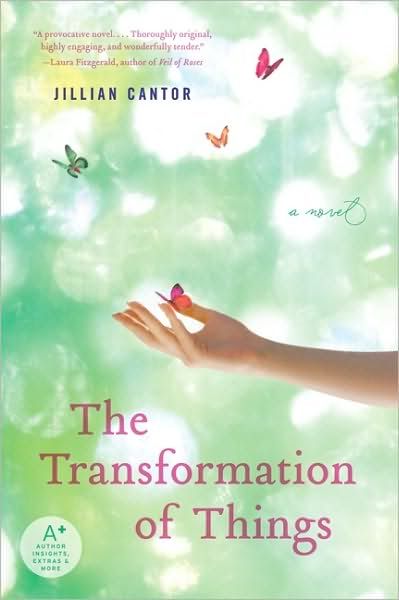 Jen Levenworth is at the hair salon when she sees the breaking news story. Her husband Will, the youngest judge in Deerfield County, has been indicted on bribery charges. Shocked and embarrassed, Jen flies out of her chair with damp hair and races home to find Will.
Will is home when she arrives and looks beaten and distraught. A look that is uncharacteristic for him as he is always put together and everything is its place when he's around. Seeing Will this way frightens Jen and she begins to wonder about his innocence. And her marriage.
The Transformation of Things
is a story about seeing things for what they are versus what we want them to be. Which we all now is very, very hard (and scary) to do. Early in their marriage, Jen and Will lived a great life in the city. Being newly married and having great careers allowed them to be young and carefree. After making Partner at his law firm, Will set his sights on becoming a judge. This decision uprooted them from city life to suburbia. Jen's job at the magazine became a distant memory as she attempted to settle in as being country club housewife.
This transition did not come easily for Jen. No matter how close she was with her friends, she thought she was still kept at arm's length in their immediate circle. This was evident when the news story about Will's arrest broke and her friends started to pull away from Jen. Slowly Jen and Will are trying to pick up the pieces after being ostracized from the country club. As Will begins a new job, Jen also finds herself freelancing at her former magazine. Will's change in behavior is at first uncomfortable for Jen, but soon she cautiously welcomes it as she ponders the future of her marriage.
And then the dreams begin. Jen has vivid dreams about those close to her: her sister Kelly, Will, Kat, a former co-worker and friend at the magazine, and Lisa, another country club member. Jen had preconceived notions about each, but after her dreams, she begins to question how well she truly knows them.
There's an unexpected twist at the end that I really can't say more about without ruining the book. I'm not sure how I feel about it to be quite honest. It took away from the book just a bit for me. Having said that, I still recommend
The Transformation of Things
to fans of women's fiction.
____________
Book details:
Genre: Women's Fiction
Pub. Date: November 2, 2o1o
Pages: 270
Source: Library