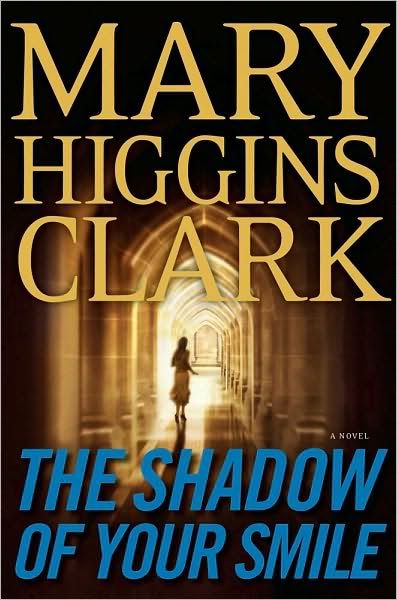 Title:
The Shadow of Your Smile
Author:
Mary Higgins Clark
Narrator:
Jan Maxwell
Review:
The story opens with Olivia Morrow learning she has weeks to live. Olivia is in her 80s and knows she has lived a good life. Knowing the end is near, there is a secret that she has been harboring for most of her adult life. Olivia is torn on whether to keep her family's secret or reveal the truth and the consequences that will inevitably follow.
Monica Farrell is a successful pediatrician. Her current case centers around Sally, a sweet girl who has seen the inside of a hospital too many times in her short life. Dr. Farrell is at odds with the girl's mother, who casually leaves her daughter and doesn't show concern for her physical health.
Monica is surprised when she receives a phone call from Olivia Morrow claiming to know her grandparents. Monica's father was adopted as a young boy and she doesn't know anything about his biological parents. Olivia asks her to meet with her so she can explain everything. Monica immediately agrees. When Monica shows up at Olivia's home the following evening, the unexpected happens.
True to the author's style,
The Shadow of Your Smile
if full of characters. There's another storyline that runs parallel to Olivia and Monica that will collide with theirs by the end of the book. Greg and Peter Gannon are nephews of the infamous doctor Alex Gannon. Greg is on the board of directors of the Gannon Foundation and is heavily involved in insider trading. Peter is a Broadway producer who hasn't had much success. The two men are a disgrace to the Gannon name and all that Alex has stood for. When Peter is accused of a crime, the media frenzy puts an unwelcoming spotlight on the Gannon family.
As Monica tries to figure out why Olivia called her, there's a hit man following her trying to stop her from finding out Olivia's secret. The plot moves quickly as the reader discovers the true identity of Monica's grandparents.
Narration:
As I've mentioned numerous times before, Mary Higgins Clark is one of my favorite authors. I began reading her mysteries in high school and every April look forward to reading her latest release.
I've checked out
The Shadow of Your Smile
twice from the library and had to return it both times unread. When I saw the audio book on the new release shelf, I immediately grabbed it, vowing this time to finally read it.
I started listening to
The Shadow of Your Smile
during my weekly Saturday cleaning. I admit initially it was a struggle to get into the story. About 20 minutes or so, I was able to settle in. Then I started to think, this first chapter is pretty long. That's when I realized the chapter distinction was omitted from the audio production. Although this may sound like a minor detail, it was very annoying for me.
The audio book is performed by Jan Maxwell. As the characters of Monica and Olivia, I thought she did a good job. Both sounded as I thought they would. It was the secondary characters I had trouble with. One character I thought was a woman (based on her name), but the voice used sounded more masculine. I had to play back this scene twice to confirm in fact it was a woman. Also, two male characters sounded the same to me which made the plot a bit confusing at times.
Length:
8 hrs, 53 min
Recommend:
Although this is not one of favorite books by the author, I still recommend it. I would recommend the print edition over the audio book.
Source:
Library
Audiobook Jukebox
.