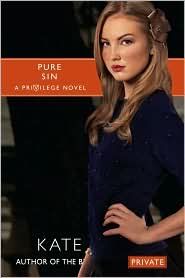 Sentence summary:
Things are finally going Ariana's way until her past catches up with her.
SPOILER ALERT! DO NOT READ UNLESS YOU'VE READ THE PREVIOUS BOOKS
IN THE SERIES
My review:
Things are finally looking up for Ariana. She's the newest member in Stone and Grave, Atherton-Pryce Hall's secret society, and she no longer has to put up with Kaitlynn's threats. Briana Leigh's grandmother's unexpected death suddenly makes Ariana a very, very wealthy young woman. Finally all that she had to sacrifice, the people she was forced to kill and the painful time she spent at the correctional facility has all led to this: a very good life.
But still there's just one problem she has to deal with in order to prevent her carefully, structured world from collapsing: Lexa Greene.
Ariana quickly learns that Lexa isn't good at keeping secrets. Especially one so tragic as Ariana killing Kaitlynn in "self-defense". Lexa is in deep with this secret as the killing occurred in her house and Kaitlynn's body is buried in Lexa's yard. Lexa is overtly falling apart. Friends worry she's on the verge of a breakdown. Both Lexa and Ariana dismiss it as Lexa being overly tired and stressed, but it's quite obvious there's more to her story.
Ariana is determined to keep Lexa sane as long as she can. She uses her "BFF" card to stay by her side while she's secretly giving her Valium under the pretenses to help her sleep. Ariana doesn't want to resort to harming Lexa (she does like her), but she knows she may need to come up with Plan B in case Lexa snaps.
As if she does not have enough on her plate to deal with, on top of keeping up the charade of being Briana Leigh Covington, Jasper, another fellow pledge, expresses an interest in her. She quickly dismisses his flirting, but soon finds herself jealous when her friend wants him to be her date to a Stone and Grave function. Unable to deny her attraction, she begins to have doubts about her relationship with Palmer, the IT guy at school. He's now "too vanilla" for her tastes and considers moving on.
I've mentioned this in a previous review, but it's worth repeating. Ariana is really a character I should dislike, but Brian writes her in such a way that I can't help but feel for her. She's so desperate to create a life that she honestly feels was stolen from her, that she will do anything (and I do mean
anything
) to get it back. Yes, she comes across as entitled, snobby and privileged, but knowing all of that, there's still a small soft spot I have for her.
Like the previous books,
Pure Sin
ended in a cliff-hanger that made me immediately want to reach for the sixth book. I am pleased with the direction Brian is leading this series as she's bringing it together with the Private series. I have been waiting for this to happen, as I want Ariana to come full circle with the Billings Girls.
One detail that threw me off a bit was the time difference between both series. I forgot about that when I read about Reed in
Pure Sin
(she's freshmen in college). One other editing detail that should be noted is Lexa referred to Lillian as Kaitlynn. No one knows Kaitlynn's true identity except for Ariana.
Coming in under 200 pages,
Pure Sin
is a quick read, that will have the reader rapidly flipping the pages to see what Ariana has to do to keep her secret safe. The ending will have you wanting book six in front of you NOW.

Lasting impression
:
I am really enjoying this series. When each book ends, I anxiously wait for the next book to be released. As much as I want to read book six, I am a bit shocked that it will be the last in the series.
Reason for reading:
Read the previous books in the series as well as the Private series.
Recommend:
Yes! Fans of both series will want to know what happens next for Ariana. Not to mention, it's nice to see a familiar face from her past
.
My rating:
4/5
____________
Book details:
Genre: YA Fiction (Series)
Series: Privilege #5
Pub. Date: October 5, 2010
Pages: 191
Source: Library