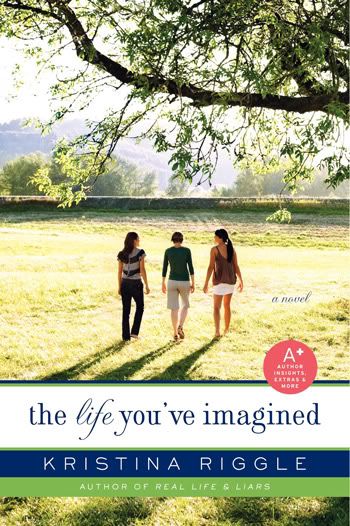 Are you living the life you've imagined? In Kristina Riggle's second novel, four women ask themselves this very question. Anna is a lawyer living in Chicago. She left her small hometown of Haven as quickly as she could without looking back. She's made a new life for herself, a life she is proud of. She's worked hard and is up for Partner at her law firm. All this changes when her mentor and close friend, August, dies. Much to her chagrin she's asked to take bereavement leave to cope with her grief. For all intent and purposes, her time home was only supposed to be for a little while. Funny how life can detour your plans.
Cami has also returned home. She and Anna are high school friends. The two woman part ways shortly after graduation. Cami is a tutor and recently broke up with her boyfriend. She has no place to go after he learns of her gambling addiction. Her father is an abusive alcoholic and doesn't care much for Cami's return home. He allows it with a condition: she must never go into his bedroom. Naturally this causes Cami to wonder what is it he is hiding from her.
Maeve is Anna's mother. She owns the Nee Nance store and resides in the apartment above the store. She was once married to Robert, Anna's father, and he left them when Anna was a little girl. Now, Robert is back in her life and wants a second chance. Maeve is hesitant at first, but eventually her love for Robert gets the best of her and she begins answering his letters. Fate may be kind to her this time as his plans to start over come when Maeve's lease for the store is up. Maybe she won't have to spend the rest of her life alone.
Amy is marrying into one of Haven's wealthiest families. Amy feels very lucky to have met Paul. In high school she was quite overweight and none of the boys paid her any attention. Now in her mid-30s, she's lost a lot of weight (thanks to running every morning) and is determined to stay that way. Even if it costs her her happiness.
In her second novel, Riggle examines the dreams and hopes we had growing up and in early adulthood. Each woman is at a turning point in her life and comes to face the question: is this the life that I've imagined? As each woman struggles with this answer, Riggle takes us back to their past to help the reader fully understand the path taken that has brought each woman to the fork in the road. Told in alternating chapters, Riggle does a fantastic job of giving each woman her own voice.
I'd admit after reading
Real Life & Liars
last year, I had high expectations for her follow-up novel. I'm happy to say not only was I not disappointed, it was just as good or better than I thought it would be. I must warn you though, long after the book ends, you may find yourself thinking about where you are today and the choices you've made that led you to this point. Some of these choices may have been good ones, and some. . . well, may have you asking for a do-over. All in all, I highly recommend this novel.
Book details:
ISBN-13: 978-0-06-170629-5
Pages: 334
Release Date: August 17, 2010
Genre: Women's Fiction
Format: Paperback
Source: Publisher, Personal copy
I received a complimentary copy of this book as a participant of the
book club discussion
hosted by Jen of
Devourer of Books.
My participation in this discussion and receiving a free copy did not influence my review in any way. It should be noted, I also purchased a finished copy from Borders.