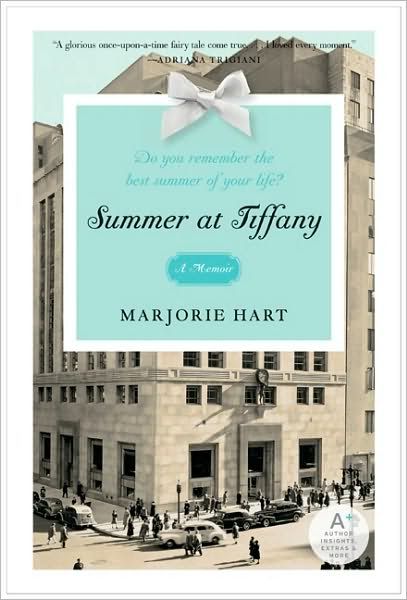 Book Synopsis:
Do you remember the best summer of your life?
New York City, 1945. Marjorie Jacobson and her best friend, Marty Garrett, arrive fresh from the Kappa house at the University of Iowa hoping to find summer positions as shopgirls. Turned away from the top department stores, they miraculously find jobs as pages at Tiffany & Co., becoming the first women to ever work on the sales floor, a diamond-filled day job replete with Tiffany-blue shirtwaist dresses from Bonwit Teller's—and the envy of all their friends.

Looking back on that magical time in her life, Marjorie takes us back to when she and Marty rubbed elbows with the rich and famous, pinched pennies to eat at the Automat, experienced nightlife at La Martinique, and danced away their weekends with dashing midshipmen. Between being dazzled by Judy Garland's honeymoon visit to Tiffany, celebrating VJ Day in Times Square, and mingling with Café society, she fell in love, made important decisions that would change her future, and created the remarkable memories she now shares with all of us. (Taken from the book flap)
My thoughts:
New York City is one my favorite cities. So when I first discovered Summer at Tiffany, I was curious to read about a young girl's first time there in 1945. I also wanted to read this memoir because I normally do not read biographies or autobiographies.
Summer at Tiffany is about Marjorie and Marty, two best friends and sorority sisters, who spend their summer in New York City. Both are from Iowa and decide to go to New York for the first time. Their first stop for employment was Lord & Taylor's, but it appeared that was every other girl's idea too. So, the two friends decide to try Tiffany's. To their surprise, both girls are offered jobs.
I absolutely loved this book. While reading, the words lovely and innocent kept coming to mind. This is how I would describe this book. Looking at my favorite city through Marjorie's eyes was enlightening. Especially because the New York that I love is different than the New York of Marjorie's day.
I also found myself googling the places were the girls frequented. Reading Summer at Tiffany sparked an interest for the mid 1940s. I spent hours searching the internet to learn about the events that occurred along with New York's history. I was quite surprised by this as history was my least favorite subject in school.
The reader will instantly like Marjorie and Marty. When both girls meet the two midshipmen, you will wish for a happy ending for both girls. Reading Marjorie's description about her dates with Jim was delightful, I couldn't help but to smile. Overall, I enjoyed this memoir and highly recommend it.

Book details:
ISBN-13: 978-0-06-118953-1
Pages: 252
Release Date: April 3, 2007
Genre: Non-Fiction, Memoir
Source: Purchased from B&N.com