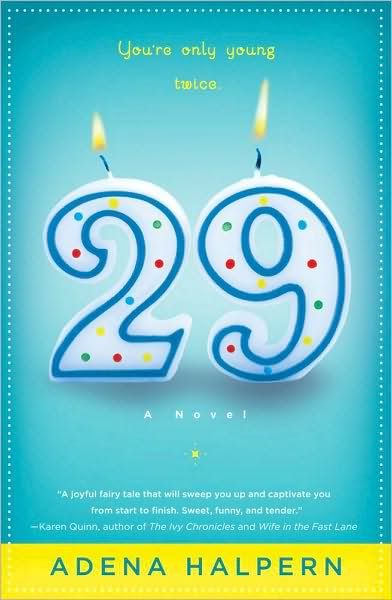 Ellie Jerome has regrets. Moments before blowing out the candles on her birthday cake, she realizes she has regrets. And not small, trivial regrets. No, they're big. Did she marry the right man? Was she a good mother? What if she made different choices? What would her life be like now as she's celebrating her 75th birthday?
If only she could go back in time. To her younger self...when she was full of life and the whole world was at her feet. Yes, if only she could rewrite her past. These are her last thoughts prior to blowing out her candles.
The morning after her party, Ellie wakes up and feels different. She can't put her finger on it, but she knows something is a bit
off
. Imagine her surprise when she sees herself—her 29 year old self—in the bathroom mirror. And so begins
29
by Adena Halpern.
Ellie is delighted her birthday wish came true. She's 29 again and can make a new life for herself. She's having the time of her life and a bit leery when her granddaughter Lucy finds out the truth. Lucy is initially stunned to see her grandmother as a young, vivacious woman. She quickly recovers and together the women decide to have a girls' fun-filled day.
Problems arise when Barbara, Ellie's daughter, and Frida, Ellie's best friend, become suspicious of Ellie's whereabouts. The two women team up to find the missing Ellie, both with concerns about what may have happened to her.
I absolutely loved this book! Ellie is a cute, delightful character as a young woman and at 75. Readers can't help but to love her. I did feel for Ellie as she's among family and friends and all she can think about is the life she could have had. Many of us would like to turn back time and choose a different path, but instead of looking back, we continue to move forward vowing to make better decisions in order to have the life we still dream of.
Despite the lightheartedness and humorous plot, Ms. Halpern does a great job with character growth and reflection regarding Lucy, Ellie, Barbara and Frida. Themes include mother and daughter relationships, being true to oneself, living your life without holding on so tightly and accepting that you're where you're supposed to be.
29
is a great way to spend a day at the pool or reading outside on the deck. I highly recommend this novel.
Book details:
ISBN-13: 978-1439171127
Pages: 269
Release date: June 15, 2010
Genre: Chick Lit; Women's Fiction
Format: eBook
Source: Personal copy