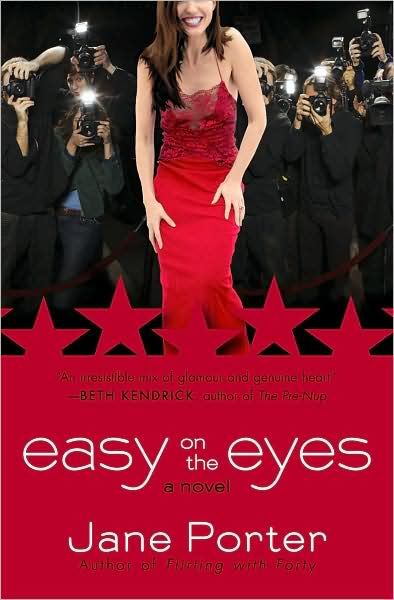 It Ain't Easy Being America's Sweetheart

At thirty-eight, Tiana Tomlinson has made it. America adores her as one of the anchors of

America Tonight

, a top-rated nightly entertainment and news program. But even with the trappings that come with her elite lifestyle, she feels empty. Tiana desperately misses her late husband Keith, who died several years before. And in a business that thrives on youth, she's getting the message that her age is starting to show and certain measures must be taken if she wants to remain in the spotlight. It doesn't help that at every turn she has to deal with Michael O'Sullivan, the devilishly handsome, plastic surgeon to the stars. But a trip away from the Hollywood madness is about to bring new problems
—and a new man
—into her life. . .and force Tiana to ask herself who she wants to be when the cameras are finally turned off.
(From the back cover)


My thoughts:

Initially when I first heard about Ms. Porter latest novel,
Easy on the Eyes
, I had no idea it would feature a character I first read about in
Odd Mom Out
. For those of you who are familiar with this book, Tiana is one of Marta's best friends. I absolutely loved
Odd Mom Out
and was excited to read more about these characters (and yes, Marta does appear in this book and it's great to learn what she has been up to!).
I immediately liked Tiana. She's very talented and smart and yes, quite beautiful. She doesn't give much thought to her looks though. She believes she's moved up the ladder based on her skills and determination. Other people, however will argue this point with her. Yes, she's intelligent and good at what she does, but it also helps that she's well. . . "easy on the eyes".
When her show's ratings begin to fall, the producers are forced to consider revamping her show and adding a co-anchor. They want to draw a much younger crowd and turn the show into a "entertainment, gossip about celebrities' lives" kind of show. Tiana is faced with reevaluating her career and the direction it's headed. She wants to stay true to herself, even if that means giving up her show that made her famous.
At times
Easy on the Eyes
is a bit repetitive. The reader knows early on that Tiana lost her husband early in their marriage and has not dated seriously since. She's had several flings, but will not allow herself to become emotionally attached to another man as her feelings for her late husband are still raw. Despite the frequent mentioning of why she's not currently involved, the story continues to move at steady pace when Michael O'Sullivan enters the scene. Although, a bit predictable, it's fun to read about their chemistry and watch their relationship blossom.
Easy on the Eyes
can be read as a stand alone novel. I also recommend
Odd Mom Out
and
Mrs. Perfect
as well.
She's Gone Country
, featuring Shey
—Marta's other best friend
—will be released this summer.
Book details:
ISBN-13: 978-0-446-50940-4
Pages: 332
Year Published: 2009
Genre: Women's Fiction
Format: Paperback
Source: Purchased copy - B&N