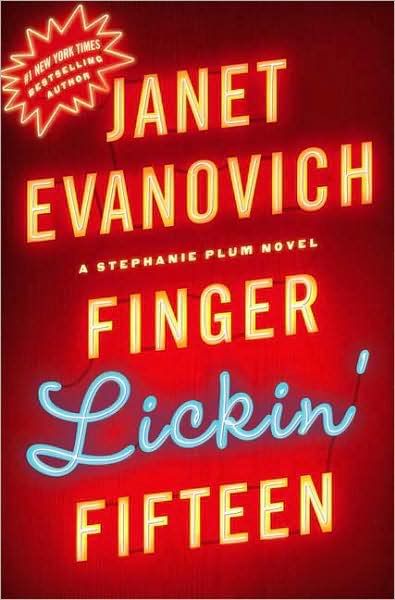 Um... well, let's see. Ok. Yeah... I just am at a loss for words with this book. For a few days now, I've been thinking about this review. What
exactly
do I say?
Here goes...
My summary:
Stephanie Plum is back along with Lula, Connie, Morelli, Ranger and Grandma Mazur. Lula witnesses the murder of Stanley Chipotle, a celebrity chef. While the killers chase Lula, Stephanie is trying to track down her skips and help Ranger with his security firm.
My review:
Finger Lickin' Fifteen
is based on the same formula as the previous three of four books: Stephanie still can't catch her skips without Ranger's help (I mean how many times can people jump out the bathroom window before she realizes not to leave them alone?), the on-again, off-again relationship with Joe Morelli (they're off in this installment), Lula farting, Stephanie and Lula eating (a lot), Stephanie's cars blow up and Ranger supplies her with a Porsche (followed by another Porsche!), Grandma packin' her gun in her purse, and dinners at her parents' home.
The lack of character growth in this series continues. Why isn't Stephanie allowed to become a skilled bounty hunter? Why does she always need Joe or Ranger to come to the rescue? The love triangle between Stephanie, Joe and Ranger has gotten old. At this point, I no longer care who she ends up with, but can she just pick one of them?!?
The Stephanie Plum series certainly isn't serious reading. I do remember a time when I enjoyed reading about Stephanie's mishaps because they were laugh-out loud funny! Unfortunately, I no longer find her funny.
I'm not sure about this series anymore. There was a time Stephanie Plum was one of my favorite series. I would immediately sign-up for the wait list at the library and read it each book in one sitting. Now, it's not as crucial for me to read the latest Stephanie Plum book shortly after its release. It has gotten to where I only read the books to keep up with the series. But
Finger Lickin' Fifteen
, just may be my last Stephanie Plum book.
Book details:
Series: Stephanie Plum #15
ISBN-13: 978-0312383282
Pages: 308
Year Published: 2009
Genre: Cozy Mystery
Format: Audio Book
Source: Library