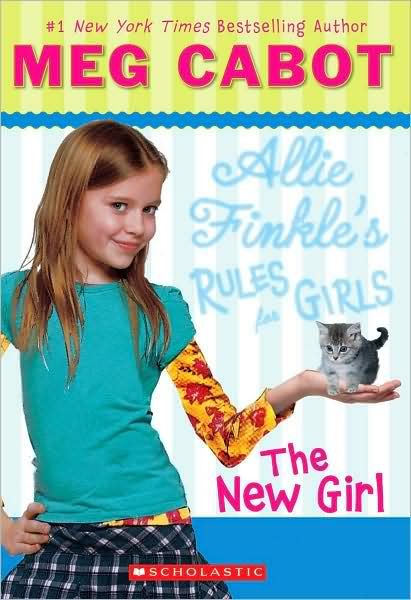 Book synopsis:

When you are starting at a brand-new school, you have to wear something good.
Allie Finkle's starting her first day of school at Pine Heights Elementary! Plus, she's getting a new kitten, the first pick of show cat Lady Serena Archibald's letter!
But being the New Girl is turning out to be scary, too, especially since one of the girls in Allie's new class -- Rosemary -- doesn't like her. In fact, Rosemary says she's going to beat Allie up after school.
Everyone seems to have an opinion on how Allie should handle the situation. How can Allie tell who's right? Who knew it was going to be so hard being the New Girl?
My review:

Allie Finkle is starting a new school. It's her first day and she is nervous! Luckily for Allie she's in Mrs. Hunter's class with her new friends Erica, Caroline and Sophie. Her first day starts out well until she meets Rosemary. For whatever reason, Rosemary doesn't like Allie and wants to beat her up! Allie's not sure what to do, but thank goodness she has her rules for girls.
The New Girl
is book two of the Allie Finkle's Rules for Girls series. Allie is adapting to her new home, new school and trying to make new friends. I enjoyed this book as much as the first. Allie is very likable and the reader will root for her as she finds her way being the new girl in fourth grade.
Book details:
Series: Allie Finkle's Rules for Girls #2
ISBN-13: 978-0-545-04049-5
Pages: 222
Year Published: 2008
Genre: Children's Fiction (Series)
Source: Library
Date Finished: October 24