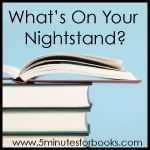 Throughout the month of October, I randomly pulled books from my shelves that I would like to read in the next few months. These books are in stacks on my dresser and my nightstand. I have to warn you though...the list is long!
Hounding the Pavement and Heir of the Dog by Judi McCoy

Easy on the Eyes by Jane Porter

Look Again by Lisa Scottoline

Mating Rituals of the North American WASP by Laura Lipton
Long Lost by Harlan Coben

Bundle of Trouble by Diana Orgain
Baggage Claim by Tanya Michna
The Love of Her Life by Harriet Evans
The Accidental Bestseller by Wendy Wax
The Department of Lost and Found by Allison Winn Scotch
By the Time That You Read This by Lola Jaye
Italians for Beginners by Kristin Harmel
Hollywood is Like High School with Money by Zoey Dean
Never the Bride by Rene Gutteridge & Cheryl McKay
I plan to read from this list for the next three months or so. I'll update my progress in future posts for "What's on Your Nightstand?".