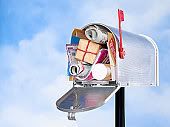 Marcia,
The Printed Page
, hosts Mailbox Monday each week. She writes:
"Mailbox Monday is the gathering place for readers to share the books came into their house last week (checked out library books don't count, eBooks & audio books do). Warning: Mailbox Monday can lead to toppling TBR piles and humongous wish lists."
Here's what I received in the mail last week:
ARC from Caitlin Price of FSB Associates:
Lilly and Val are lifelong friends, united as much by their differences as by their similarities. Lilly, dramatic and confident, lives in the shadow of her beautiful, wayward mother and craves the attention of her distant, disapproving father. Val, shy and idealistic-and surprisingly ambitious-struggles with her desire to break free from her demanding housebound mother and a father whose dreams never seem to come true.
In childhood, "LillyPad" and "Valpal" vow to form an exclusive two-person club. Throughout the decades they write intimate letters in which they share hopes, fears, deepest secrets-and recipes, from Lilly's "Lovelorn Lasagna" to Valerie's "Forgiveness Tapenade." Readers can cook along as the girls travel through time, facing the challenges of independence; the joys and heartbreaks of first love; and the emotional complexities of family relationships, identity, mortality, and goals deferred.

But no matter what different paths they take or what misunderstandings threaten to break them apart, Lilly and Val always find their way back together through their Recipe Club . . . until the fateful day when an act of kindness becomes an unforgivable betrayal.

Now, decades later, while trying to recapture the trust they've lost, Lilly and Val reunite once more-only to uncover a shocking secret. Will it destroy their friendship, or bring them ever closer? (From Barnes & Noble)